CHITRA ARVIND, RHYTHMOTION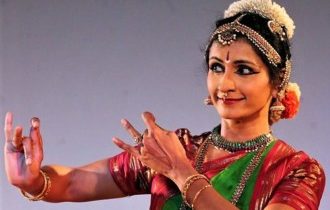 Meet Chitra Arvind, Artistic Director of Rhythmotion in Bangalore. She is a choreographer, teacher, and performing artist, professing and practicing Bharatanatyam, Kathak and Contemporary dance for more than two decades. She also trains hearing impaired students in dance to help develop their overall personality.
Chitra continued to dance post motherhood and with her story is keen to encourage mothers who have given up their passion post child birth. Read more about Chitra in her own words.
I started learning dance at the age of seven, thanks to my mother Rama Srishailan, who recognized my talent. She taught me Carnatic vocals and the Veena which has been very helpful in my dance journey.
My gurus Dr. Maya Rao, Chitra Venugopal, and Lalitha Srinivasan have always blessed and supported me immensely. My first step into professional dance was after my graduation in choreography, when I was studying Masters in Dance. I was invited to work as a contemporary dancer in London for several years with the Shobana Jeyasingh Dance and Wayne McGregor.
Being a mother is a full time role and has definitely helped me learn to multi-task. My family is my strength and support in everything I do and every performance or project related to dance becomes the centre of discussion, debate and loads of inputs in terms of positive critique. My sisters too are involved in designing costumes, stage and lighting when it comes to organizing Rhythmotion Trust's dance festival Chalana- Dance for a Cause, in aid of the Deaf Aid Society.
I have students who had given up their passion to dance and post motherhood have started again. It is really amazing to see their energy, interest and zeal to learn. It inspires me as well.
Every dancer will agree with me when I say that it takes loads of practice, dedication, commitment, passion, tons of willingness to learn (without letting ego coming into the picture). During the first few years of dancing professionally, I had the opportunity to dance for eight hours a day, and five days a week. That kind of opportunity is inspiring and pays one as well. Struggles and disappointments are plenty because dance in India is still not considered as a mainstream profession. However the scenario is much better than what it was twenty years ago when I decided to take up Choreography and Dance as my profession.
From my experience I can share…that all aspiring dancers need to keep practicing, dancing and creating…whether there is a performance opportunity or not. The Universe has a way of making things happen if you really want it! As for me, I will remain an eternal student, even as I teach others who are just as passionate about dance as I am.