THAT THING CALLED 'INNER CALLING'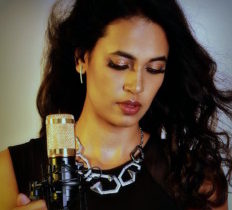 The textbook definition of 'inner calling' is a strong inner impulse toward a particular course of action. Some of us have the luxury of paying heed to it, some of us fight it on a daily basis and some others completely ignore it for various reasons. Here's Divya RT, Singer and Vocal Coach who, just like many of us struggled to choose between the voice of reason and the voice calling from within.
With a background in Biochemistry, it made perfect sense to Divya to pick a career in the same field. So she chose to become a lecturer in Biochemistry in one of Bangalore's leading colleges. She spent close to 7 years doing what some of us do so well – quietening down that little voice inside that knows what our heart really wants. But when it got too loud to ignore, Divya quit her job to devote herself to her first and only love – music and singing.
The first few months were the hardest. She thought that perhaps taking on a high paying managerial job would be a step in the right direction so she could spend all her free time on music and fund her musical dreams. But she was proved wrong. She realized no amount of money would "satisfy the urge to strongly pursue music."
"So what does a vocal coach do?" I asked Divya and she eagerly went on to explain, "A vocal coach helps singers learn and apply vocal warm up exercises and techniques to their songs, to help them sound more professional while singing."
With Michael Jackson as her greatest inspiration, Divya aspires to perform like him on stage and become a  musician/singer as astute as him whether it comes to composing tunes, writing lyrics or training her students. She is highly driven and is keen on using her leadership skills in the musical space to deliver top notch and professional training to those who want to hone their singing skills.
To my question on what her plans are, Divya says that "24 hours in a day are just not enough for my time with music". Her website for live, one-on-one training on vocal techniques is ready for its launch and will be announced soon on her Facebook page Divyart/voxcoach. Her first batch of students are undergoing the training with one student having already completed the Beginners Level in Professional Vocal Techniques with 92%!
She is happy that there is a lot of interest in what she can offer and adds, "It's been a struggle to get to where I am but support from family members, and my music have helped restore my strength and confidence. Now, there's no stopping me."