KANIKA TEKRIWAL, JETSETGO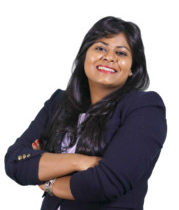 Meet Kanika Tekriwal, Co-founder and CEO of JetSetGo Aviation Private Limited. When I first read about JetSetGo the words that came to my mind were – innovation, disruption and revolution! And it turns out that is exactly what Kanika set out to do. At 29, she has already been chosen as one of the 100 most inspirational women in the world by BBC and recognized by Forbes Asia as one of the 30 under 30 leading entrepreneurs in Asia. In terms of personality, Kanika's energy is infectious. She compels everyone around her to strive for success and redefine their lives every day.
"So what is JetSetGo all about?" I asked, wanting to hear Kanika's exciting journey. Her response was nothing short of amazing. She co-founded it with Sudheer Perla, to provide Indian charter customers "the choice, transparency and flexibility to book a private jet online on both web and mobile platforms."  Intrigued, I asked her what sparked her interest to conceptualise JetSetGo. She gave me her top three reasons. Firstly, her research suggested that customer frustration was high when dealing with charter brokers. The choice was limited and there was lack of transparency. Secondly, the pricing models provided by the operators dramatically increased the cost of flying private and finally, the inadequate or sub-standard level of ground infrastructure tremendously compromised the entire customer experience.
Kanika shared that there were no major challenges she has faced to get to where she is but that does not mean it was easy! It involved "tears, blood, sweat, sleepless nights, more takeaway containers than days in a year, learning to do things I hated and learning to do things I deemed impossible." to get to where she is today.
Having accomplished so much, so early in life and with so much more to conquer in her years ahead, I asked Kanika to share her message to all the members of The Wonder Women World. She stayed true to the spirit of JetSetGo and said "Just get going!"