NILMA DILEEPAN, YELLOW UMBRELLA PRODUCTIONS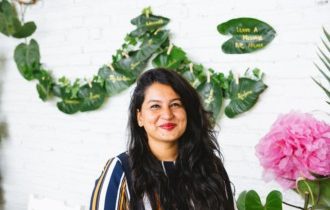 "You are a badass, magnificent sorcerer of divine light. Each day. Every day." I usually end with a message from my wonder women, but given how badass this message was, I decided to start with it! Meet the woman who lives by this quote, Nilma Dileepan.
Now Nilma, manages two worlds that she founded herself. One is called With Love, Nilma through which she designs, styles and curates decor for weddings, birthdays, anniversaries, etc. Her forte is "minimalistic and eco-friendly décor". The second one is called Yellow Umbrella Productions and as the name indicates, it is a production house via which Nilma and her team coordinate and produce TV commercials, digital films, music videos and photo advertisements.
"How does it feel being captain in command?" I asked Nilma, and she says without a minute of hesitation, "Scary, exhausting, humbling, exhilarating, frustrating and exciting". "Give me an example", I continued and she did. There was this one shoot which Nilma had to complete over 24 hours straight. It was a deserted studio on the outskirts of Bangalore for a car commercial. The crew consisted of about 150 people, of which Nilma was the only woman and the  one in charge. A fairly new producer, Nilma initially felt a bit overwhelmed and took a side step. She let each department do their job especially since they were all pretty senior in their field and she was just a 26 year old girl running around giving orders which no one actually adhered to. But soon there was chaos as there was no coordination. The director was losing his mind as they were losing time. Nilma, exhausted from all the prep work, decided to take matters in her own hands. She mustered the courage and yanked the PA system and let her message blare and echo in the studio asking everyone to cooperate, be respectful of role as producer and get cracking. That was that. Soon the peace and balance was restored and everything went on smoothly. Nilma lost her voice with all the yelling, but she gained a lot more at the end of that day.
With the universe as her inspiration, a solid team beside her, and no care for the male egos she has bruised along the journey, Nilma looks forward to all the exciting projects in the pipeline and when asked if she ever doubts she can continue to manage the dual role, she confidently says "We have no limitations. All these ideas and doubts are concocted in our heads to hinder us from achieving great things. Ironically, we are our biggest hurdles. There is nothing else to stop us from aspiring and reaching our goals."