TINA DESAI, ACTOR AND MODEL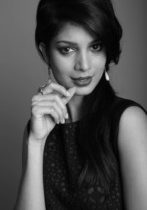 "All the world's a stage and all the men and women merely players." Here's introducing you to the dizzying world of stars, scripts and stilettoes via the eyes of Tina Desai, Actor and Model. I am sure most of you will recognize Tina from her role in movies like The Best Exotic Marigold Hotel and its sequel. She also stars in Sense8, a Netflix original. In India, Tina acted in the movie Table No. 21 and a couple of other art-house projects. With the introduction done, let's get down one level deeper. Tina admits that although she harboured a secret ambition to become an actor, it always seemed too far-fetched. Being so far removed from the industry, Tina was afraid of her parents' reaction, she worried her friends wouldn't approve, and fought her own self-doubts. But she secretly prepared herself for it for years and told no one about it. And when the time was right Tina says "The universe just made things fall into place".
"How did you prepare yourself?" I asked brimming with curiosity, to which Tina said, she created her own acting school by practicing scenes from movies in front of the mirror and tried to find her own way of doing a scene in addition to the way the original actor did it. She also read what many actors had to say about their process, studied their journey in the industry and kept her eyes and ears open for pointers from any quarter. Today, she continues to learn new skills and be open to every experience because it can all contribute to understanding and portraying a character better.
I continued to quiz Tina and my next question was about the competition in her industry. She explained that, it was the same as in any other industry. The stress, the politics, the targets and expectations are similar. A key differentiator however is, each one's individuality and what they bring to the roles. One has to play up their strengths, present their unique qualities and maximize the value add they provide. But she cautions everyone that, "the minute you start thinking you are irreplaceable then it's a downward journey from there."
With thousands of aspiring models and actors trying to make it big, I got Tina to share some advice. She listed her top three tips. Firstly, being well-groomed at all times and presenting the best version of yourself because this industry is a visual medium. Secondly, she highlights that it is important to know your strengths and weaknesses, be aware of how people are responding to you (so you can play up what's working for you) and constantly evolve into a better version of yourself. And finally, Tina says, it is very easy to get carried away with all the fun and distraction, but don't let your goals take a back seat and allow your passion, determination and ambition to guide you in your journey.
After being in the industry for a few years, Tina still feels that one must know how to navigate this industry tactfully and be ready for all opportunities. Entering Hollywood was something Tina never planned because this exchange of talent started happening only recently. But she says "when the Marigold Hotel happened to me, I immediately did what I could to further my prospects there" and similarly she advises the young aspirants to hold onto their drive, stay focused and keep pushing in the direction of their choice. Ending on a positive note, Tina says "This really is a fabulous industry that makes you experience so many things that isn't normally possible so enjoy everything to the fullest and live the dream!"