AARTHI SIVANANDH, LAWYER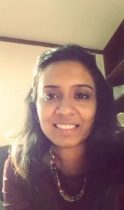 I absolutely love the suspense and power of a well-directed courtroom drama, so the first question I asked Aarthi Sivanandh, Lawyer and Partner at J Sagar Associates, was if it was as dramatic as depicted in the movies and if she had the opportunity to deliver the famous phrase "Objection, My Lord" on a typical day at work.
Aarthi was very amused, but patient with me. She went on to explain her line of work and it opened my eyes to the various other types of law that keep the growth engines churning but perhaps lie in the shadow of litigation that forms the storyline of many box-office movie hits.
Aarthi specializes in Corporate Law and handles transactional and advisory work for corporates and entrepreneurs. That means she is a trusted counsel to many, handles investment transactions that can include them buying and selling companies, and legal advice to shareholders, directors and other stakeholders in companies.
As a Partner in a leading Tier I law firm in India, her journey has been sometimes fast, sometimes slow, but mostly transformative.  The key aspect of her job is to marry the nuances of the law with the intricacies of business and she views it as both, an opportunity and a challenge.  She loves doing it, she says. Aarthi shares that "no piece of work is alike and one needs to constantly keep pace and opine within the four corners of the law."  She has found that using the right proportion of legal logic, commercial reasoning and fair persuasion on behalf of a client is the secret to her success as a lawyer. Even when it comes to tough negotiations that can sometimes seem like a puzzle, the trick, Aarthi says, is "is to know where the piece goes and also correctly time when you place the piece in the puzzle so as to let others help you complete it."
Her best cheerleaders apart from her husband, are her kids, Saatvik (9 years) and Sahana (5 years) who Aarthi says, often times give her "very sound advice".
Her advice to the women who are aspiring to be lawyers is to stay disciplined and focused. She says "It can be super challenging but aim to stay the course, keep the foot on the gas pedal of your career. There will be impossible things between family and kids but you will always find solutions. If you choose to dock your career for the sake of kids, when you come back don't worry about time gone but focus on what you want to do and equip yourself." And finally she adds, "It's a long road, being positive and kind is the only way to walk it. There's a lot of work left to do and this world needs help on several counts – pick anything and help!"