ARE YOU REALLY A PHOTOGRAPHER?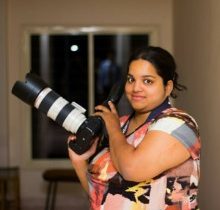 The title was meant to attract your attention not only to this post, but to some gender stereotypes that still exist in this day and age. Meet Poornima Reddy, founder of Purni Photography who always patiently answers this question and some others like "do you know how it works?", "have you done this before?", "will you be covering the event alone?", "are you OK with outdoor shoots?", from potential clients, especially those who are yet to realize that photography is no longer a career meant only for men. Women can handle a camera too!
Poornima's confidence with the camera, her lack of hesitation to get into the most uncomfortable position in order to get the perfect shot and her unapologetic nature is extremely refreshing. Only 25 years old and already facilitating workshops on photography, Poornima told me that she realized she had a knack for capturing the best shots when her friends always ended up using the photos she clicked as their profile photos across social media. So when her good friend, handed her, her first DSLR, she knew it was a sign that she needed to take up photography as a serious career.
Poornima is self-taught, she practiced by photographing events for free, took online courses and fine-tuned her skills through trial and error. She shared that although times are changing, there are many who still prefer male photographers over females ones. There is a wrong perception that men are better photographers than women and Poornima lets that inspire her to do better and perfect the art. She hopes to be one of India's leading photographers some day and when the going gets tough, she reminds herself of this goal and gets back on track.
It has been four years now, and Poornima has consistently been wowing her clients with her talent. She believes in keeping herself up to date on the new trends and techniques and now covers all events including weddings, birthdays, and family get-togethers (outdoor shoots have never been an issue!). She even does portfolios and portraits.
She may be only 25, but when I asked Poornima to share some of the lessons she has learned, she gave me a very mature response. She said "You will meet a lot of negative people in life who will want to bring your morale down, don't ever let them. Also, remind yourself every day that a woman is no less than a man. We can do wonders too, we just need to believe in ourselves and believe that we are winners!"