REENA ALEX, WEDDING DECOR STYLIST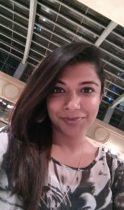 Someone who knows the likes of a bride to be, who can make her happy, drive away her wedding jitters, excitedly talk for hours about the wedding specifics and make her dream wedding a reality. No, I am not talking about the groom, I was referring to a wedding décor stylist! Meet Reena Edward Alex, Founder of The Wedding Spell. Reena started out as a blogger, given her "obsession with all things to do with weddings" and then using the vast knowledge she acquired via her research, she went on to broaden the scope and set up her own wedding ​and event décor styling​ company.
​Two years ago, when Reena started off, she had no background in business and neither had close friends or family in the business world to turn to for advice. In fact, the announcement that she was going to quit her corporate job to start The Wedding Spell was not received well by her concerned parents as she was leaving behind a career in the airline industry after having gained experience for over ten years.
Reena was scared. She recalls how her lack of experience meant learning the hard way, she had bad website designers, unreliable vendors, not so helpful CAs, etc. But after each fall, she picked herself up, made a note of the lesson she learned and kept moving ahead. Her inexperience also meant staying very alert and learning on the job. It was trying at times, but when Reena was appreciated by her clients and their families for her work, all her ​struggle​s​​ ​seemed easier to overcome.
Today, Reena has no regrets whatsoever that she took the decision she did. Shedding light on the massive wedding and event planning industry, Reena is honest and open about how competitive it can get. She wins her clients by ​giving more than 100%, reaching out as a friend not just to the bride but to the whole family, expecting the unexpected and being ready for any challenge that comes up. She also always keeps an open mind and takes care of the people who work for her.
Now that Reena has settled in a comfortable pace and has lots of interesting projects coming her way, she doesn't hesitate to tell women to try something new, even if they are unsure of how and why. "Do it now", she says, "It's never too late!"​