LET YOUR SUCCESS MAKE THE NOISE!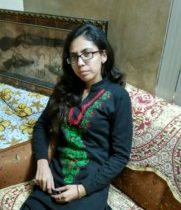 The year was 2007. Nidhi Bansal from Bassi Pathana, in Fatehgarh Sahib District (Punjab), recalls watching an especially interesting episode of the Guinness Book of World Records with her father. They always watched it together and animatedly discussed the innovative things people do to become record holders. On this particular day, however, her father turned to her and said with a twinkle in his eyes, "Nidhi, why don't you try too?" Amused, at how serious he was Nidhi said "Me! But what can I do papa?" He replied with full confidence, "Think of something different. You will not know until you try!" The show soon got over, but, the conversation remained in Nidhi's mind until long after. Her father's words and the look in his eyes were unforgettable. Filled with excitement, 17 year old Nidhi, was not able to sleep that night.
After considering hundreds of ideas, she finally settled on a simple, but fun one. Collecting stickers! Confident that she had chosen the best way to fulfil her father's dream, she announced it to her friends and family, but all they did was laugh at her . They joked about her idea, called it a waste of time and asked her to do something worthwhile instead. She felt demotivated and let down. But what mattered was that her parents and brother supported her and this helped her stick to her decision.
Right through college, Nidhi spent all her free time and spare money collecting stickers. She would rush home, complete her assignments, scout around for interesting stickers then sit for hours (sometimes late into the night) to carefully file, count and write notes on every page. This went on for five years. Finally in 2013, Nidhi felt ready to approach The Guinness Book of World Records. She told no one about it, afraid, they would mock at her again.
After several rounds and the longest two months of her life, Nidhi finally received the much awaited mail. She had made it! Nidhi Bansal from Bassi Pathana, Punjab, was a Guinness Book of World Record holder! Her joy knew no bounds, she immediately called her father to inform him and he too was over the moon! He was filled with emotion when he said to her "I always knew you would make it beta! That was just the beginning, since then, Nidhi has be recognized by the Limca Book of Records, India Book of Records and has won several awards in her home town for her creativity. She has also been featured in the local TV news and is proudly introduced as the first record holder in all of Fatehgarh Sahib District!
Today, Nidhi is the proud founder of her own little venture called Sidhnath Craft Creations Society, she has her own Facebook page, a blog, a YouTube channel through which she shares her creations hoping to inspire other girls like herself to follow their dreams. She feels proud that she was able to fulfil her father's dream and is glad she didn't listen to the ones who doubted her. Among all the lessons one can learn from this determined young lady, there is one that overshadows the rest. Work hard in silence, let your success make the noise.