Saturdays With Shivani- Citius, Altius, Fortius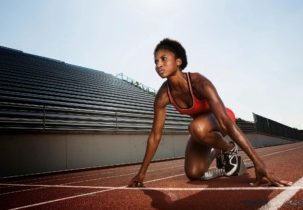 I'm not the one you would find wallowing in regrets but not having played too many sports is something that does prick me. I loved skipping and badminton and did indulge in free play with friends and cousins but I was essentially a homebody happy with my books, art and crafts and connecting with friends who had similar tastes.
I am not lazy. In fact, it's quite the opposite because I like to keep busy. Just that my idea of fun centres around conversations in a cosy corner with like-minded people than sweating on a hiking trail or playing a sport.
I've long held the belief that the training one gets in a sports ground goes much beyond the physical drill. The lessons one learns there come in handy when one faces the real world. The notion just became stronger when I met my husband who is an avid sportsperson and must have tried every conceivable sport that's played in India. Having observed his behaviour in various settings, I often see the legendary sportsman's spirit working its magic, both on the field and off it.
I know this isn't the best of times to be talking about sports considering that even if we may wish to, we can't get our kids on the playground. Why I choose talk about it is because I recently watched a very interesting series called 'The Playbook: A Coach's Rules For Life'. Spanning over five episodes, it features some very famous coaches as they share their experiences and methods.
I found so much wisdom in every word they uttered especially because quite a lot of it resonated with me in my role as a parent. I nodded my head in agreement when coach Doc Rivers said, "I am not gonna coach you to who you are. I'm gonna coach you to who you should be someday." Isn't that what we as parents strive to do? I was amazed at the grace that 'Doc' displayed in the face of racism and was still able to tell us that pressure is a privilege. His advice struck me when he said, "I don't think you should run from pressure. You should run towards it." How often have we ourselves run away from it or protected our children from stressful situations when they can serve as wonderful character-building opportunities?
I was bowled over by José Mourinho's unapologetic swagger, the handsome coach of Portuguese professional football team. For someone whose name is synonymous with winning, I think his alleged arrogance is well placed. I liked him a little more when he said, "If you are prepared for the worst, you are prepared." That is exactly what I do to stop myself from fretting and making a mess of things. I couldn't agree more when he said, "The train doesn't stop twice."
Then there was Jill Ellis, the coach of United States women's national soccer team for five years who 'followed passion over pay check'. I may not understand what an off side is but I loved hearing her talk about how a leader should be and how to handle success and keep evolving.
Dawn Staley, the American Olympic gold medalist basketball player and coach, tempered the series with her lessons on patience. She insists, "What is delayed is not denied. Keep the faith."
Finally, there was Patrick Mouratoglou, the French tennis coach who is most famous for coaching Serena Williams since June 2012. He insisted upon being fearless and to speak the truth at all times but also let us in on a secret that as a coach, you have to say the right things sometimes to bring confidence. A good lie can become the truth if spoken at the right time. Sounds odd but watch him say that and you'd believe him too.
All of them spoke about failure and frustration being inevitable. What matters is how we handle them and how our weaknesses can become our strengths if we work on them. There is no shortcut to success and its only hard work that will take us there. What is important is to accept that mistakes will happen but that shouldn't prevent us from taking risks.
We may have missed out on Olympics this year but let's not forget the life's lessons that it teaches. And just like its motto- citius, altius, fortius may this year inspire us to be faster, higher, stronger.