Saturdays With Shivani- Art or the Artist; Is it a Hobson's Choice?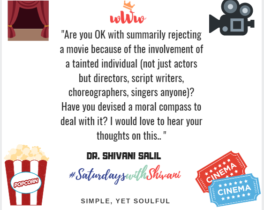 This Saturday I have some questions that have been troubling me and I am unable to find a straightforward answer. First up, a disclaimer- A self-proclaimed movie buff I may be but I have never been into hero worship. I love cinema as a medium, so much so that one of my initial columns was on movies. I revere it like any other art form and believe with all my might that good cinema has the power to make us think. My thoughts are akin to those food connoisseurs who tell you that it's not just the presentation but the recipe, the spices, the condiments; but every single aspect of the process that is important.
Having come out clean, let me share what has been troubling me. It probably started with #MeToo movement when names started tumbling out from the closet that I started wondering what is more important to me- the art or the artist? Prior to this, actors like Sanjay Dutt and Salman Khan had never mattered so boycotting their body of work was hardly an issue since I never watched much of it anyway.
The recent debate on #Nepotism troubles me quite a bit because a Tapsee Pannu starrer piques my interest just about as much as an Alia Bhatt flick. I would find it tough to boycott Alia Bhatt's movie because of her lineage (Karan Johar doesn't figure in the scheme of my things which makes him an easier casualty). More than the nepotism, what irks me are the cliques, the fake news and the victimization of 'outsiders' if they refuse to confirm.
I might have continued the art Vs. artist debate in my head but what did me in was a blog published by Mr. Bachchan in response to a troll who wished death on him when he was recently diagnosed with COVID. As if the hourly updates on his bowel movements weren't enough that now we had him getting vitriolic over a troll that could easily have been ignored. His chequered political career, the alleged statement that he made during the 1984 riots, some of his inappropriate comments in his quiz show, some of his foolish tweets and his romantic relationships; all came back rushing to me to remind me why I had developed a distaste for him over time. On one level I am glad that his mask is off (the timing couldn't be more ironic).
What bothers me however is that despite my misgivings, I had always been watching his movies and may I daresay, quite enjoying them. The fact that I don't put actors on a pedestal helps ease my conscience but it doesn't redeem me. When I told my daughter, I was planning to share my dilemma on Saturday Thoughts, she posed a question- Mumma, why wouldn't you watch Piku for Irrfan or for the director who has done such a good job? Or Cheeni Kum for Tabu?
Unlike other art forms where an artist alone is responsible for his/ her creation, movies and theater are a team job. It is relatively simpler to stop patronizing a writer or a poet or a painter. On the other hand, picking on one and boycotting his/ her work seems unfair to the hundreds of people who have slogged in the making of a movie or play. I have been advised to separate the art from the artist but it is not easy for me. Neither does punishing the whole team for the wrong doing of one seems fair. It's a Hobson's choice as I see it.
This weekend I leave you with the question- How do you deal with it? Are you Ok with summarily rejecting a movie because of the involvement of a tainted individual (not just actors but directors, script writers, choreographers, singers anyone)? Have you devised a moral compass to deal with it? I would love to hear your thoughts on this.
Meanwhile, stay safe.
Love and light-Dr. Shivani Salil