HER LAST WALK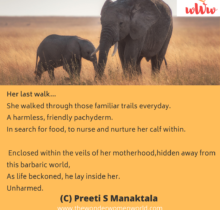 HER LAST WALK – by Preeti S Manaktala
A 15 year old elephant consumes a pineapple filled with powerful fire crackers which exploded in its mouth. It died in the Velliyar River. This is considered to be a malicious act of cruelty by someone and was done on purpose. Things are still being investigated on this matter.
Here is my short poem paying a tribute to the harmless animal, who was carrying a life within".
Her last walk..
She walked through those familiar trails everyday.
A harmless, friendly pachyderm.
In search for food, to nurse and nurture her calf within.
Enclosed within the veils of her motherhood,
hidden away from this barbaric world,
As life beckoned, he lay inside her.
Unharmed.
Sadly, he left with her for another world.
Without seeing the forest her mother lived in,
Without seeing the river she bathed in,
Or the trees and the shade under which she slept.
Yes, he left with her.
Without seeing this changing world and it's enchanting beings.
Us, multifaceted manipulative morons.
He left.
Oblivion to the fact how
his mother was put to sleep forever,
her end coming disguised in a fruit.
They left.
Did those sadist men follow her to enjoy and see
how painful was her end ?
As humanity wears many faces of Satan each day.
With kalyuga deepening its roots,
I long to see what veils would karma wear now?
To end this game.
© Preeti S Manaktala
#thewonderwomenworld #poetry #GetPoeticWithPreeti #tragic #unfair #life #alllivesmatter