My Motherhood Journey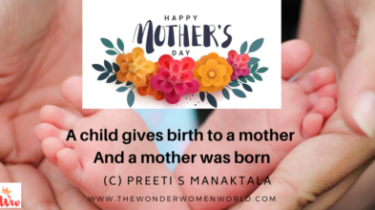 A child gives birth to a mother
And a mother was born
She was amateur and callow
Her life seemed a bit hollow
Vulnerable to the dreaded postpartum
Luck turned her into a spartan
Fear of being clumsy and confused
She perpetually felt abused
She didn't know what to do
With this bundle she just delivered
Who seems so selfish crying and howling
Even as she quietly quivered
Found no love for this being and no bond
She only waited for a magic wand
So she took each day as it came
Alone battling this game
And with no help around
Dopamine was nowhere to be found
Days turned into weeks
And weeks into months
She hit a all time low
But had no time to slow
It dawned on her , one fine day
Its not easy being a mom
Dripping and smelling of lactose
And no time to comb
She walked around like a milking cow
In her XXL maternity gown
Then a transformation came slowly
When postpartum said goodbye
She learnt to make time for herself
Made herself some pie
She got better as the days passed
By stealing time in between
To make herself a cup of Chai
I Hope that's not called mean
Learning new things each day
She was now on her own
This bundle became her prized possession
Oh this soul she had known
His angelic smile, his babbling and his cheer
Melted her like a candle
She was now on top gear
A day came when she patiently watched him in sleep
The bond grew deeper and stronger
But why did she weep ?
Guess her feelings were now truly deep
A mother was born with feelings so pure
Now she is not just a mother
But a nurturer to cure
She longed to hold him and cuddle
As he learnt new things each day
Adding feathers to his cap
He will be a big boy one day!
Now she is a pro and an experienced mom
Before she knew it, the second one came along
She's truly out numbered
As now they are three! !
Not a moment for her
Will she Ever be free?!?
Her eldest being a quadragenarian
This one's a tough nut
But he loves her deeply
There are no ifs and buts
Three men in her life now
Keeping her on her toes
Can't imagine her life without them
Like a Phoenix , she rose !
I have to leave this unfinished here ..
And come back some other day
To tell you more stories
Of her nights and her days…!

Copyright Preeti S Manaktala ..once a callow mother !