Irrfan- An Inspiration; In Life as in Death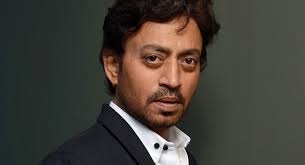 Time is such a relative term. On one hand it seems that we've been under lock down forever. On the other hand, it seems just like yesterday when the second semester of my MFA started. Where did the twelve weeks go? This realization dawned on me when I was asked to submit my manifesto as a writer, on the last day of my classes.
I have always been wary of comfort zones and the complacence they beget. My manifesto spoke about avoiding getting into one of those. It also talked about resilience, not to compromise on my creation to suit publisher's or readers expectation, to stay true to craft and to aim at perfection. When I read it out on Tuesday in my class, I realised I was setting myself up for a huge challenge and may be a lifetime of rejections. The enormity of the realization inspired and scared me in turns. I slept on it only to get the news next day of losing my favourite actor, Irrfan.
Despite being a self-proclaimed movie buff, I'm no fan girl who would go star crazy and yet I am unable to recover from this loss. I realised I wasn't the only one who felt that this was something personal. Is it because, despite all his success, he was this approachable down-to-earth fellow sans the starry glitter? May be.
If I may speak for myself, his untimely departure came at a time when I am riddled with self-doubt and unsure where my passion for writing will take me. I worry if I would become a people pleaser or end up getting corrupted? Would I give in or worse give up? Would I become lazy in my quest for perfection? And above all am I good enough? Do I have it in me?
And then I think of this wonderful actor who stood by his beliefs as he bided for his time to come. For someone who joined the industry in 1980 it took him more than two decades to bag 'Haasil' (2003) that made people sit up and take note. I look up to him because he achieved success on his terms. He must have been plagued by self-doubt too and yet he chose to pick his roles carefully. He epitomized the lines he mouthed in Life of Pi (2012) -Doubt is useful. It keeps faith a living thing. After all, you cannot know the strength of your faith unless it has been tested.
He never let go of an opportunity when he saw one. Even if it was a miniscule role in Salaam Bombay or the multistarrers that he acted in. It didn't deter him and he always gave it the best.
In the time of social media, when the number of eyeballs you grab or how your movie does at the box office, this man continued to focus on the path he had charted for himself. Was he tempted; I don't know? What I do know is that he didn't give in to it. He had a philosophy that he believed in and lived with. That is a lesson I want to remember.
"How long do I have to remember it?"
"Remember it always. Remember that you and I made this journey, that we went together to a place where there was nowhere left to go."
-The Namesake (2006)
He shall never know this but he will always be with me in my journey. He inspired me with his performances when he was alive. In his death he leaves me with precious lessons that I want to imbibe as I walk on my chosen path. To quote his wife, Sutapa from a recently issued a statement- 'This is not a loss; it is a gain. It's a gain of the things he taught us and now we shall finally begin to truly implement it and evolve.'
No wonder, Sahabzaade Irfan Ali Khan, your death feels personal.