DRIVEN BY PURPOSE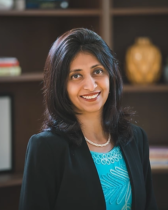 Meet Payal Nanjiani Who Is Redefining Leadership And Changing The Way Corporate World Thinks
" I imagine a corporate and business world in which maximum people and organizations take complete ownership, give their best each day and are highly successful- regardless of title and circumstance."
I am all about leadership and success mastery. In my 21 years of speaking and coaching, I have come to realize that leadership is the DNA of success- for you and your organization. Nothing can surpass your leadership. The money, title, position, status, promotion, everything you want in your job and business, depends on your leadership. Leadership, which is meant to be a source of joy and happiness and give meaning to one's life, has today become a source of tension and pressure. Leadership is a mindset with which each of us are born. But only a few people in the world unleash their inner leader. I have committed my work and life to inspire and help more people and organizations develop a leadership mindset so that they can adapt to this new, fast-paced environment. There's no higher goal for me than to help others to be great leaders and succeed.
But I must admit, this wasn't always me. I come from humble beginnings. My parents emphasized the value of education due to which I decided to go on to business school. I had a very a successful start in my career here in India before moving to the United States. And that's when life changed for me. While relocating to the United States of America in the summer of 2000, I remember how I was constantly reminded by friends and family that I am stepping into a land of opportunities where people are very successful. In the beginning things were great. I was living the so-called 'American Dream' and was excited to move ahead in my own career. But there was a feeling of unfulfillment. I felt an emptiness from inside because of the reality I saw around me. Despite all the information and resources available, despite being in a land of opportunities, most people were struggling at their workplace. There existed a huge gap between the "successful few" and the "unsuccessful many." I felt uneasy. Today when I look back, I can say that uneasiness is good- it changed the trajectory of my life and brought me immense fulfillment.I left the comfort of my well-settled work-life and immersed myself in research to get to the root of this gap. And soon, I realized that this gap between the successful few and the unsuccessful many existed throughout the world, not just in America. My curiosity and research helped me understand the reason for this gap, and it formed the springboard of Success Is Within Leadership, founded to helping people and organizations to lead and succeed-no matter what. Fast-forward, today my keynotes, workshops, coaching and books have changed the results of numerous organizations and millions of people across the globe. It has now become my life's purpose to help more people and organizations to succeed – no matter what. The media calls me a leadership guru. But I am no guru- I am like you who has many failures and rejections in life.
My work takes me around the globe giving me an unparalleled, up-to-date insider view of how successful people and leading companies operate. And I have first hand witnessed that none of these people whom we see standing head and shoulders above the rest are cut from any different cloth than you and me. Achieving success is no rocket science. You've just got to know the right techniques and practices. My latest book, Success Is Within, published in New York, talks about these techniques and the mindset which most successful people in the world work with. If you read the book, you would know the 21 Ways for Achieving Results, Prosperity, and Fulfillment.
Ultimately, we all have a limited time in our work-life. It's time to lead and succeed at your job and business. You are here not to survive, but to thrive.
As I always quote. "Leadership starts and ends with you."™
———————————
Payal Nanjiani is a globally acclaimed Indian-American leadership expert, and executive coach whose keynotes, workshops, and books have helped numerous organizations globally to develop world-class leaders who take ownership, regardless of their title. Known for sharing 'insider" techniques which are not openly available on public domains, her work has touched the lives of million people and numerous organizations helping them to succeed-no matter what. Many entrepreneurs and start-ups have benefited from her work and coaching. She can be reached at success@payalnanjiani.com
www.payalnanjiani.com