Sweta Kumari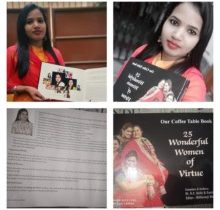 It's a wonderful feeling to see my transformation into a writer. I never imagined someone who had the least interest in studies till tenth grade, will ever be a serious and diligent student one day and a writer as well. This sometimes amazes me – life was never been a bed of roses for me. I had to face struggle at every stage. I was born and raised in the small town of Rajauli in the Nawada district. I have done my schooling at a Hindi medium Government school my Graduation and Post-Graduation in English from Magadh-University, Bodh-Gaya. Currently, I am pursuing my Ph.D in English Literature and my doctoral research project entitled as "Dialectics of Feminism in Select Hindi Films and Film Adaptations of Indian English Novels (1960-2010)". Not only that, I am very active in attending and presenting research papers in conferences and seminars in this field. 
After struggling between my academics and passion, I now find solace in only and only words. My writing are mostly inspired by my own life and experiences and what I have witnessed in society. I got recognition as a poet when my first two poems entitled "Tranquillity in Life" and "The Dejected House" published in an Annual Magazine of SPARC (Society for the Promotion of Arts & Culture), Karim City College, Jamshedpur, 2016-17. I constantly got chance in creative writings and I proudly admit that Facebook have given me that enough space to flourish.
Likewise, continuous participation in anthologies kept me connected to it. I have contributed my writings in about 70 book anthologies including national and international anthologies, journals and magazines like Sending Love to Mom, The Brimming Bards, Holistic Healings of Widows, Wildflowers Rising, Out of the Woods -Feeling – It by Words, The Pillar: Father's Day Presentation 2019, A Bowl of Peace, Voices of Hearts, Miracles from Heaven, Hues of Life, Blissful Reminiscing Soul, Quilled by Patriotism, Fragrance of Life, Divulge, Troupe of Wishes, The Amateur Ink, Curiosity, Raindrops: The Adoring Drizzles, Anchal, Poems From 30 Best Poets, Buoyant Bliss, Florets of Fancy, Envision Arts Magazine and others.
The turning point in my writing journey came when I recited my poem entitled "Penning Down the unsaid: An Alleviation" and was awarded the 'Outstanding Performance in Poetry Recitation Award' for the same by the Literati Council, India in an International Conference, 15-16 June, 2019 on Widow's Problem and Their Solutions held at Vimal Bihar, Gokul Mathura. Thus, writings brought some more accolades and awards as inspiration like "Father Day Presentation 2019 Best Budding Poet of The Year", HONORARY DEGREE OF DOCTORATE, Universal Achiever Book of Records, Future Kalam's Book of Records, Rajastariye Prabodhan Thakre Samajsudharak Purushkar 2019, Rashtriya Ratna Award 2019, Literoma Annual Women Achiever Award 2019, Vivekananda Award in Best Youth of the Year 2019, Literoma Laureate in Best Aspiring Author 2019, Nobel Laureate Kabi Rabindranath Tagore Award and others.
Opportunities are always around in need if will power and ambitious attitude are strong enough to grab. I didn't let go any changes whenever I got, and I took an opportunity to work for the first joint poetry project entitled "A Date with Poetry" in 2019 contributing my 20 poems focusing on social issues, nature and women's cause published from Artson Publishing House along with three other writers belonging from different states. Hereafter, my first solo anthology entitled "Voices from the Society"(Vol-1) got published by Inkquil publication House on 21st January 2020. It focused on various social issues prevalent in the society. I have a keen interest in dealing with social issues through my writings. In fact, it voices not only the social problems, but it also tries best giving some of its remedies, and that is my vision for writings.
I am glad that I could touch the reader's heart with my writings. And I am grateful to those who have often inspired me to go ahead with my writing career and even to those whom I don't know them in person though they could relate my writings. With all inspiration and these achievements, I aim to express my notions and ideas through words, because that's what describes me the best.