SRIDEVI KRISHNAN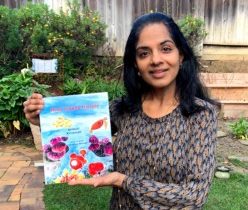 Sridevi Krishnan started to write for children when she discovered
that she was soon going to be a mother. Her very first book was a
collection of "Nursery Rhyme Tales" dedicated to her twins. Over
time, she began to invest more time and effort in writing which
eventually led to her book "Mina Makes Friends." In this lovely
book Mina, the fish is new to the ocean and embarks upon an
interesting journey and makes lot of friends. This book can be
used by parents and educators to discuss the topic of moving,
being a new kid in the class, be curious and venture out. With
beautiful pictures and simple language, this book helps ease fears
of finding new friends.

Sridevi is also an author on the core team for Chinmaya Mission's
Balvihar magazine for children. She has also conducted story
workshops for elementary school children. During these
workshops children learnt to create story books of their own from
cover to cover. In short, she taught them to write brilliant stories
and bring those stories to life by teaching them to illustrate
accordingly. Sridevi is grateful to her husband, and children, for
their immense support in her writing journey.