JYOTI PATEL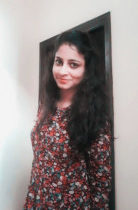 I was born in a small town named 'Tandur' in the state of Telangana and I spent 14 years of my life over there.
I remember I was great academically until my 6th grade but, like many I've always disliked Maths and have never been good at it. I was good in other subjects and most especially, In English and Telugu languages. In addition I had a great handwriting. I was an active child; I was good in sports and always loved the competitions. Kabaddi, Kho kho, Running, Badminton were my favorites. Whenever I had the chance I never missed participating in school, city and district level athletics.
I didn't have a great childhood but, it was not too bad either. They say 'childhood is the golden period of everyone's life' however, mine was filled with ups and downs. I had to drop out of school after my 8th standard to take care of my parents, both of them were suffering from various health issues for more than a year, I was into home schooling for 3 years and I lost my father to cancer at the age of 14.
My writing journey has started around 7 years ago. To be honest, I never really thought that I would become a writer someday. Around 6 years back, I found an online platform to read amazing books and to share my short stories, poetry, and novels. This gave me the chance to publish my works instantly which were available to a wide and varied audience from all around the world. The votes and comments came flooding every time I published my poems and stories. I'd never experienced anything like it before. Each day, I woke up to messages of encouragement from readers wanting to know 'what I'm writing next' & saying 'how inspiring my books are' so, that's how my writing journey has been started. As days and months passed, I've received so many opportunities to publish my works and I started contributing to many anthology books. I was very much happy with the response by my readers and so, I decided to write and publish my first solo book.
There is not just one situation which triggered me to follow my passion. My dad's death, loneliness, depression, unhappiness and unexpected moments like, having had to drop out of school made me a completely different person. After dropping out, I lost my school & neighborhood friends and, when I moved to a city, everything felt a little different in the beginning. I spent days, weeks, months and perhaps 2 years of my life in regrets. All of such moments and life experiences have made me pen down my emotions, feelings and thoughts in the form of Poetry and Stories.
I hit the lowest point in my life innumerable times. I was extremely depressed for months, I cried myself to sleep almost every night. I had no motivation and nothing felt fun for me. I was always in a bad mood with no energy and on such days, I was a girl who constantly had the thoughts of suicide scenes running in mind. Even on such days, I tried my best to act as everything is going well in my life. I pushed myself a little harder, I started reading and writing, I joined in various writing communities online and, I must say I was the only person who helped me in all those months and years. I never really had anyone with whom I could share my feelings and who could listen, understand and help me without judging.
Going through deep dark days changes us completely, from being depressed to being a happy person took time for me. Overcoming the pain, the loss, and the tears is tough. There were times when I just wanted to disappear and never see the world again but one day, I decided that I would help myself and then, not only did I help myself, but I helped everyone who reached out to me. I motivated myself by reading books, I joined in music classes, and I went through lots of encouraging talks and motivational stories to heal myself now, when I look back at my life, I truly feel that paying attention and doing the little things as such is very important when we are down and suffering.
I was abused as a child verbally and physically. I never truly received the great amount of love in my childhood days. I was always the one who craved for more love, more care and more happiness. All of such moments have given me better stories to write down and made me a powerful woman emotionally. Every experience I've had made me a better human being! I dearly admire every moment that helped me to be a better writer.