INDIYAAH INDIAA- BLEED BLUE FOR OUR GIRLS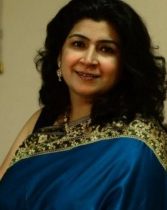 When it comes to TV, we've always had two ground rules- that we'd only have one TV set ever and it would never be in the bedroom. Consequently, who gets to watch or what we'll watch, is decided either by calling dibs on a favorite or consensus. Usually there is a peaceful resolution and crisis is averted. But since the last one month, with all three of us working out of home, the TV remote has become a much-coveted commodity. And the living room is forever under the threat of turning into a battleground.
Truce came calling in the last week of February and we've invited it to stay till Sunday at least. The miracle came in the form of ICC T20 Women's World Cup. Husband enjoys cricket and the daughter is eagerly following. What's there in for me, you ask? I'm not a cricket buff at all and the way we've made heroes out of our overpaid cricketers just puts me off. However, there's something about this bunch of girls that attractive.
Ranging between the age of 16-30+, they all seem to know their roles in the team and understand the responsibility that is on them. They've performed brilliantly in the series and are eager to do more. I've googled some of them and checked their Insta profiles as well. They've struggled their way up and each has an inspiring story to tell. They may look like regular girls but just witness their transformation on the ground. Its uplifting.
I do not understand the technical nuances of the game but thanks to the stump mic I can hear the sounds of encouragement, focussed aggression and above all the sense of camaraderie and team spirit. It's a pleasure to my eyes and ears. I prescribe it to all those who are ready to write off women as a bickering, bitching bunch of losers (read the writers/ producers/ actors AND viewers of regressive TV soaps)
With the upcoming International Women's Day, I naturally connected it with these amazingly empowered girls. This year's theme is- I am Generation Equality: Realizing Women's Rights. It marks the 25th anniversary of the Beijing Declaration and Platform for Action which is touted to be the most progressive roadmap for the empowerment of women and girls, everywhere.
I've often raised the issue of pay parity and it still bothers me that the male cricketers in the top bracket on BCCI central contracts list are entitled to an annual remuneration of Rs 7 crore, while a female cricketer in the highest category gets Rs 50 lakh for the same period. That's less than 10%. But our ICC's woman cricketer of the year, Smriti Mandhana is 'not bothered by a paycheque lower than her male counterparts as she understands that the "revenue which we get is through men's cricket"'.
She goes on to add- "The day women's cricket starts getting revenue, I will be the first person to say that we need the same thing. But right now, we can't say that. I don't think any of the teammates are thinking about this gap because the only focus right now is to win matches for India, get the crowd coming in, get the revenue. That is the thing which we are aiming for and if that happens all other things are going to fall in place."
That wouldn't stop me from cribbing about the disparity (it's too huge a gap for me to overlook) but this is a shining example of 'Generation Equality'. Instead of crying foul, these women choose to up their game and become a force to reckon with. A force that no one will be able to ignore.
I know as a nation we are far from gender equality (saw the hugely triggering movie 'Thappad' and the reality hit like a tight slap one more time). Often, I find it hard to answer my daughter's questions, but it is reassuring to know that she has role models like these to inspire her.
Meanwhile, I know that in light of SARS CoV-2 triggered panic, quite a few Women's Day Celebrations have been panned. So, might as well root for our girls on Sunday as they take on Team Australia.