INVEST IN INTUITION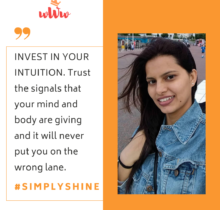 Last few weeks have been very disturbing not only for me but for a vast diaspora of people who still have their faith in humanity, who still believe that we all are equal beyond any barriers that separate us on the basis of colour, creed, caste, country, customs and cultures. These all dreaded words from C can only be cut out from the basic moral fabric of our society by Compassion. We all are way more than the attributes attached to us by society. But as with every bad time comes scope for an equally good time so was the case with me.
Being on medications for more than ten months with little or no body movements, one can easily guess what would have been the state of my mind. I was completely heart-broken for no treatment; no medication was working in my favour. But deep down in my mind, I had a very strong feeling that there is something that is being missed. On sharing this thought with all the doctors under whom my treatment was going on, they all gave me the reply on the same lines that it is nothing but my more than necessary knowledge about the medical field which makes me suspicious of their work. True it is that from that time itself, I am working on a few projects in the medical field and artificial intelligence, but this had nothing to do with the intuition I was having. No one listened to me not even my family and friends, they all said it is my overthinking. After many sleepless nights trying to connect all the diagnosis and treatments, my intuition started taking the shape of my soon to be a reality of life.
I went for some tests on my own in February almost after suffering for 10 months eating loads of supplements and taking precautions which gave me nothing but a dozen kilogram of extra weight. Reports came and bingo my instincts were right, I took the reports as if I won the first prize. With new findings began another journey of regular visits to doctors, yet it gave me relief like none other. Feeling from inside that I will be fine soon is the precious of all. After a few days of right medicine and detection of disease, I felt my long-lost energy and enthusiasm coming back in my life. It all happened because I stick to the strong intuition that something is missing.
It is akin to the mathematical problems when we don't get the right answers, we need to restart solving it from the beginning rather than just focusing on where our calculations might have gone wrong. Trust the signals that your mind and body are giving and it will never put you on the wrong lane.