Love is in little things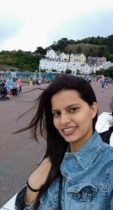 After a tiring yet fun filled start to the week, here I am back again with the little snippets of my thoughts. Few days back it was Valentine's day- the day of love and almost everyone, especially college going youngsters were completely in it. It left me wondering do we really need a day to express our love? And even if we do then why don't we keep expressing it throughout the years, throughout our life?
After conversations with few youngsters on their perspective of love which is nothing more than what they saw in Bollywood movies, I felt that there is a dire need to tell them what love actually stands for. There's more to it than what they view through their rose tinted glasses.
Love is in those little moments when we can be our true self with our partner or for that matter with anyone whom we love be it our parents, friends or relatives.
Love is when we care for each other, support each other in hard times. It's in those moments of nothingness when we feel content in their company. It's in those early morning cups of tea over which we discuss and argue about everything under the sun. Love is even if we are angry, yet we call and ask if they reached the office safely.
It is much beyond those bouquet of roses, chocolates, cards with mushy wordings, candle light dinners which once in a while are ok, but considering these things as the basis and prerequisite of a relationship is wrong.
So guys if you love then express it daily through your actions, your care and make it a routine of your life while not considering it as a ritual that has to be celebrated once in a year.
May we all love and be able to express it from our heart and not through our credit cards.
Love is a feeling divine
Express it from time to time
Grow in it and not out of it
Stop being cheesy, start being classy