DR. DIPTI MODY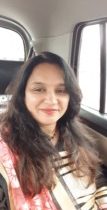 'Swathasya swasthya rakshanam Aturasya vikar prashamanam'.
Help retain the good health of a healthy person
Treat the person who is suffering from a disease
I am Dr. Dipti Mody, an Ayurveda consultant for the last two decades. I was a firm believer in Ayurveda right from my childhood and pursuing the professional qualifications as an Ayurveda doctor added to my beliefs.
After completing my education, I was sure of practicing classical Ayurveda rather than a mixed practice. My perseverance and faith in Ayurveda always stood by me. It's an irony that the Western world has been promoting Ayurveda even though Ayurveda is our most ancient form of health science. But, better late than never Ayurveda is now getting equal or more importance in today's time.
Ayurveda is the answer to lifestyle disorders of the present day. Diabetes, high blood pressure, high cholesterol, PCOD, are few among many lifestyle disorders that can be controlled and reversed by Ayurveda. Increasing pollution, uses of pesticides and chemicals have surged skin disorders and allergic reactions like asthma etc.
Ayurveda helps fighting against these and building immunity.Pain management and pain relief can be controlled by Ayurveda in Arthritis, sciatica, spondylitis, gout etc in a very excellent way. Gynecology disorders are treated without causing hormonal imbalance with Ayurveda.
I truly owe my achievements to my parents who always stood by my side and their good values imbibed have made me the person I am. Being a mother of a lovely teenage daughter (my biggest asset in my life) who is ever ready to teach new tech trends, is the job I love the most. And a foodie and travel enthusiast husband who is ever supportive by my side I truly feel blessed to spread awareness about healthy living and lifestyle choices. 'A healthy happy world with Ayurveda for all', is my vision.