Poetry on Silver Screen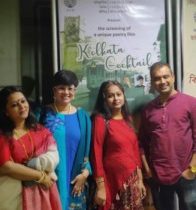 Kolkata's oeuvre in the fields of literature and celluloid are known all over. Many a trend has been explored, assimilated and spread beyond its banks. So it isn't surprising that another stellar start has been made. Three happening contemporary poets have come together to portray their poetic vision on the silver screen. Kolkata Cocktail is the first big screen film on poetry. The three protagonists, poets all, meet in the city after a long time. 
Gopa Bhattacharjee belongs to the aristocratic North Kolkata households. Ipsita Ganguli lives in Mumbai. Lopa Banerjee is an NRI based in the US returning home in the winter. The three childhood friends spend a day reliving the city which formed the backbone of their lives. A unique dimension given was by the real life poets who enacted their own roles and each recited poems written by themselves. Taking their sentiments and philosophy forward was director and filmmaker Shuvayu Bhattacharjee who's the 4th poet here, infusing his poetry through frames, music and silence to project a cohesive story of a changing yet unchanging city. 
Premiered to a wowed audience at the Satyajit Ray Auditorium, ICCR, Kolkata on December 20 last, the poetic depiction of 'Tilottama", the beautiful, mysterious lady, here the city herself, was impressive and inspiring. Exquisite verses powerfully exploring sentiments, sensibilities and relationships painted the picture of bonds with one's hometown that are strained but do not tear.
The premiere was scheduled so that it timed with Lopa Banerjee's annual arrival to the city from Texas. All being eminent authors and poets as well as real life friends, this experimental genre has added another exciting chapter to the winter cultural scene in Kolkata. Several showings later, it promises to be the toast of the English-Bengali film circle of 2019. The dual language works fluidly with the audience. And Poetry remains the hero of the film. Lots of exciting follow ups can easily be anticipated. And that's really a positive thing in this disruptive social climate. More introspection, more  sensitivity and more gentle persuasion for cultural and social growth.