DR. ARUNA MENON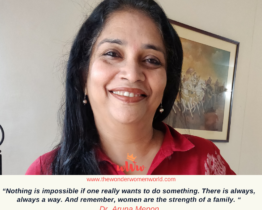 Tell us about yourself Dr. Aruna
I am a Gynecologist working in the Armed Forces.  I completed my schooling in Goa, MBBS in Kerala and MD in AFMC, Pune. I'm presently posted in North India, heading a 250 bedded hospital as Administrator / Director. Married to Rajiv Krishnan, a retired Maj Gen  I have 2 children Rohan and Apoorva, and Ann is the latest addition to the family as Rohan's wife.
I love books and reading. I've been blogging and writing regularly on online platforms. I have my own blog called Ripples and Reflections. I've been awarded the Orange Flower Award for writing on Women at Workplace by Women's Web in 2019. I've won a few "Blogathons" as well as 100-word story competitions. I've contributed to Poetry and Short story anthologies. Writing is a passion and recently, I've published a collection of my short poems and quotes titled "Aruna Writes". I like painting oils. I also enjoy cooking new dishes in all kinds of cuisines. Knitting is another hobby I indulge in during winters.
How has your journey been so far? How long have been doing what you are doing?
I love my job. I find it immensely satisfying. 32 years of working as a doctor has been a fulfilling journey. As a Gynecologist, I have had an emotional positive connect and impact on many lives and that is very inspiring and motivational to continue working.
I'm also a recognised University Professor in Gynecology and I enjoy teaching my speciality and grooming my younger colleagues. I have been attending Conferences and Workshops regularly as faculty resource person.
In terms of achievement, I have done my MD in Gynaecology while I was pregnant with my daughter and managed to get the first Rank at Pune University. I have no regrets in life but have learned lessons from experience. One of the biggest one is that, "Nothing is impossible if one really wants to do something. There is always, always a way. Women have an innate strength that even they may not be aware of unless presented with a tough life situation. "
Can you describe some of life's challenges and how you face them?
Work per se had a twofold demand. Firstly being in a speciality of Gynaecology involves unpredictable and unexpected demands on my time during "off duty" hours as well, which is difficult for women especially when the children were young. Secondly, being in a transferable job, it requires me to relocate and resettle in a new place every 2 -3 years, which in itself is challenging.
I have needed to stay alone with my children when my husband was away in "non-family" stations and when we were posted to different locations. When I was at home, I liked to do everything for the family myself including cooking, teaching the kids and taking them on outings. But being in a demanding profession with several emergencies, I had to develop an adequate support system at home so that if I'm not around, things will move as smoothly as possible on the home front. I had the option of sending them to boarding schools but both my husband and I were keen for them to be at home during their formative years. Later they would leave the nest anyway and till then, I wanted all of us to bond as a family for as long as possible.
How do you unwind or what do you do when the going gets tough?
I love music. I watch a lot of movies and read books.
But the best outlet has been writing. I love poetry and enjoy writing in verse. It's a great outlet for emotions. I write every day, without fail. Even if it is only a few lines, a short fiction or just a take on a prompt on an online platform.
What would you suggest to those who want to follow in your path?
It's never easy to attain one's dream but if one is motivated, there is nothing one cannot do. Be sincere to whatever you do. Hard work dedication and devotion to one's duty / responsibility has no substitute. Persevere. Do the best one can. Once you are sure you have done your very best, sit back and let life take its course. Don't fret over lost opportunities. Look for new ones. Learn to recognize your own strengths and weaknesses and work on both. 
Women have the strength to build lives. Each one of them can nurture as well as nourish their families as well as their own lives by their choice of work and finding ways to incorporate family into it. Time management is the key to all issues.