Michelle Sanjana Sathish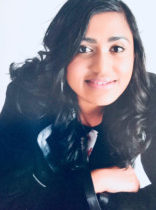 My name is Sanjana. I am from the United Kingdom. I have recently graduated with a Law with Criminology degree from the University of Chester. I live in the USA now in New Jersey and currently interning at the Princeton Police Department. During my spare time I love to write poems. Writing poetry has been a way of expressing my thoughts and imagination. I first started wiring poetry when I was in primary school. However, very recently I got back into the flow of writing in the year 2017 during the summer.
My inspiration for unlocking my creative spark was visiting the ghostly Lake Eeerie in Maine NJ. At this point, I felt a flow of creativity and began to write. From that moment on I have been writing as much as I can. Attached below is my first poem called the Sleepless Lake and one of my most cherished poems called the Rising Sun.  I want my poems to touch the hearts of people and empower them to be positive and follow their dreams.
If you wish to join The Wonder Women Writers' Network you can reach us at thewonderwomenworld@gmail.com or reach out here CONTACT US