LET ME BE MATLABI…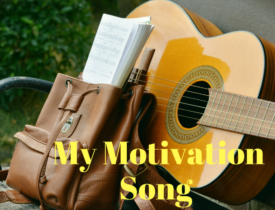 Listening to songs is just wonderful. The beats can fill you with enthusiasm, the lyrics have the power to calm your mind , the aesthetic experience bringing the real happiness.
Everyone needs to beat the stress in today's rushing life. Many tensions to be solved, many situations to be tackled and many people to make adjustments with. We as women face lot many more stressful situations at workplace and in family too. And to keep life easy-going it's important that we find ways to ease off the burden and feel light even in stressful situations. I take the help of music and songs many times. Some songs make me feel happy, some motivate me and some even shake me to dance . Oh I just love songs.
My Motivation Song
Matlabi ho ja zara matlabi , Duniya ki sunta hai kyun , khud ki bhi sun le kabhi …….
Well it's a Bollywood song which I like. I like the beats but love the lyrics even more. This song motivates me . Matlabi ho ja zara matlabi— Really in our everyday life, we are most of the time listening to others, feeling concerned for others and working for others . Sometimes I am listening to my Boss, sometimes I am satisfying my hubby's ego, sometimes I am cooking according to my family's wishes. Am I here to live according to the world?
There comes this song to relieve me, motivate me and make me happy . If not possible every day, let me be Matlabi once in a while. Let me do what just My heart wishes, something that I really like, which brings the real smile to my soul.
The song motivates me to prioritize myself, love myself, live for myself .
Kuch baat galat bhi ho jaye , kuch der ye dil bhi kho jaye , Befikar Dhadkane, is tarah se chale , shor goonje ….
These form the next lines of the song. O wow! How true? I am a human being yaar , certain things may go wrong at times. Why do I need to listen to others if some sort of mistake occurs? I wish my mind to remain undisturbed in all situations.
It happens many times that my mind finds itself in a fix, unsure of other's nature of response , whether to ask hubby about going alone at a party , or to ask Boss about a leave .
Should I ask?? No, No I think I shouldn't. I tell you there are many such moments when my brain cells start making some complex movements & my heart starts zapping up tick -tock -tick-tock. But I don't want things going this way. I wish to be relaxed, happy-go-lucky. I want Befikar Dhadkane for myself.
I want to live for myself, loving myself.
Let me sing and dance, it makes me happy. Let me take fake medical leave at job and go vacation with friends, acting stupid with them brings me lot of smiles. Let me not just keep worrying about others. Let me start working on my own living, the way I want.
This was one of my motivation songs. Which one is yours?
Disclaimer: The views and opinions expressed in this article are those of the author and do not necessarily reflect the views of The Wonder Women World. If you wish to write /contribute you can reach us at thewonderwomenworld@gmail.com or here-> CONTACT US