SAUMYAA VARDHAN, SHUBHPUJA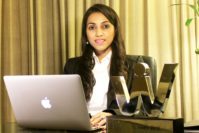 A statistician, an aviator, an astrologer and an entrepreneur all rolled into one. Meet Saumyaa Vardhan, Founder and CEO of ShubhPuja.com. With the spiritual and religious market known to be a male dominated one (and with revenues running into billions), Saumyaa decided to do the unthinkable. She not only took the industry by storm with her entry but also kept up with the times by adding an element of technology to it. A disorganized sector which had seen little …or no innovation in many years, Saumyaa decided to do something about it when she saw how her friend's family who lost a loved one, struggled to organize rituals as the family members were scattered across the globe.
Using her background in management, statistics and mathematics, Saumyaa applied a combination of scientific and mathematical models in Vedic sciences to deliver authentic services via ShubhPuja. I was curious to know how the transition from being a strategy consultant in companies like KPMG and EY London to an entrepreneur in the religious industry has been, to which Saumyaa said "a very interesting and rewarding transition. The smiles I get to see on my clients' faces is motivation enough for me to continue to innovate and add value to our services". And don't the non-believers get to her? Unfazed, she says "most people are passive believers. We try and explain the reason behind a particular mantra, the calculations around vaastu and numerology which helps people open up to Indian Vedic sciences".
As with every success story, Saumyaa faced her fair share of obstacles – the learning curve was steep, the uncertainty was high and the market was tough, but she did not want to give up and she's happy she didn't – from being featured in Forbes, Los Angeles Times, to winning Best Disrupter Service Award, Saumyaa (with her growing network of 500 priests!) is very excited for what the future has in store for ShubhPuja.
Currently, Saumyaa is working on expanding services in the international markets. Her experience has taught her that women are an embodiment of beauty, creativity and endurance and have leadership skills that are uniquely combined with empathy. She encourages all women to "take advantage of that uniqueness and you will be able to overcome any challenge and cross any hurdle."