DR. SARASWATHY VISWANATHAN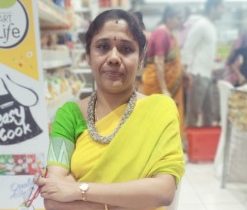 Meet Dr. Saraswathy Viswanathan from Thrissur who is the founder and owner of Sachu's Kitchen a Vegetarian food startup. Their specialties include:
Huge variety of Indian dishes with an interesting medley of flavours
Healthy South Indian dishes made of millet
Fusion sweets and desserts
Pickles
Customized egg-less cakes
Saraswathy has participated in several cooking competitions. Her recipes were published in various state and national level magazines in India like Vanitha Pachakam, Aval Vikatan, Grihasobha etc. Her recipes were also published online by Manorama news online. Recently, Saraswathy was invited to participate in the Kerala Business Summit 2019, conducted at Kochi.
On 21 April, 2019 Saraswathy set a record created for cooking 108 dishes in one hour! The Universal Book of Achievers Records and Future Kalam Book of Records. Their target was 75 dishes. I prepared 108 dishes. And received a doctorate from Universal Tamil university. The dishes included 20 varieties of idlis, 8 varieties of puttu, 2 payasams, 1 kesari, 2 upmas, 13 dosas, 4 soups, 2 pastas, 3 pulaos, 6 cakes, 3 sevai, 13 milk shakes, 7 juices, 21 snacks and 3 varieties of tea.
"Via Sachu's Kitchen, we have delivered vegetarian food and egg-less cakes for several parties and functions throughout the state. Our dishes are packed with various flavors coming from the mix of flavors coming from the right ratio. To bring the completeness to our dishes, we serve them with love and passion. Along with the taste, our food is healthy and unique in its own way. The idlis and puris made of millet are examples to start with. For more information on dishes you can check out my blog "
Disclaimer: The views and opinions expressed in this article are those of the author and do not necessarily reflect the views of The Wonder Women World. If you wish to write /contribute you can reach us at thewonderwomenworld@gmail.com or here-> CONTACT US