'Tis the season for cultivating compassion!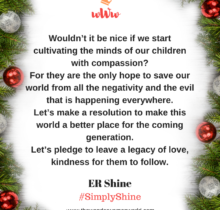 It's that time of the year when everyone around the world is busy planning their holidays and looking forward to get together with their kith and kin. Yes, it's the time of celebration and merrymaking as we enter the last month of this year and with its end we begin yet another new year, thereby bringing new hopes and ambitions. We will all get engrossed in deciding our new year resolutions which will lose its sheen with the passage of few weeks.
How about doing something unique and fruitful this time. Wouldn't it be nice if we start cultivating the minds of our children with compassion? For they are the only hope to save our world from all the negativity and the evil that is happening everywhere. This year lets make a resolution to make this world a better place for the coming generation. Let's pledge to leave a legacy of love, kindness for them to follow.
I am sharing my tried and tested steps for cultivating compassion in life.
To begin with, we ought to be kind hearted with everyone not only with our friends but for those who consider us as their foes. To implement this just pray for the well being of everyone. It's hard in beginning, but trust me when I say "May every human being get happiness and feel content with life." It fills my mind with a sense of belonging and peace.
Then we need to invest our trust in all our relations as it is the root of the ever-growing tree of friendship which yields fruits of various hues of happiness and joy throughout the year. But remember to keep watering its roots from time to time with love.
Further, this tree will purify the air of cooperation as once we start having a genuine sense of concern for others, then the air of cooperation will be free of pollutants like treachery, back stabbing, bullying, instead it will be full of healthy particles like honesty and truth.
Voila! Our highly enriched land for cultivating compassion is ready and we can harvest self-confidence and warm-heartedness. So, let's get to work on it before the time runs out of our hands.
Wishing you all a happy cultivation. Let's enrich ourselves truly in the spirit of festivals and positivity.
Disclaimer: The views and opinions expressed in this article are those of the author and do not necessarily reflect the views of The Wonder Women World. If you wish to write /contribute you can reach us at thewonderwomenworld@gmail.com or here-> CONTACT US