GIRLS NEED TO PLAY! PERIOD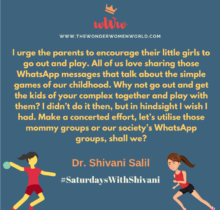 Two weeks ago I wrote a piece here, Standing on The Shoulders of Giants, about a budding cricketer, Shafali Verma. My grouse was about how our country lacks the infrastructure and the administrative will to encourage sports, especially in girls.
As I scrolled through the comments, one reaction particularly jumped out. There was a comment and I quote- "Have you seen girls playing in a playground, park etc as a normal routine, in any organised game?"
That struck home. I remembered the time when my girl was a toddler. She would play every evening with her friends (girls and boys both) and on most days we had to drag them back home. She would be soaked in sweat and grime, her grin rising all the way up to her eyes. It was such a lovely sight. But as these kids started getting older, my daughter would come back within an hour, sometimes even less. Most girls were no longer playing, and the boys were reluctant to include the few who wanted to play. I was spending quite a few evenings with a grumpy kid who'd perch herself up on the window ledge. Hoping and waiting…
Then we moved and where we are now, she's enthusiastically trying everything that is coming her way (just yesterday a friend of hers and she tried rugby with the boys at school). With all the upheaval in our lives, sports have come to her rescue. She may never take up sports professionally, but the energy dissipation and the endorphins are well worth the effort.
When I was my daughter's age, I wasn't much into playing (my sister who is now joined by my daughter call me a geek). And to this day I regret that. I never wanted my daughter to live with that kind of regret. As parents, we must push our girls to get out in the evening and play. Not the structured, competitive coaching kind of playing but the unstructured free play.
I urge the parents to encourage their little girls to go out and play. All of us love sharing those WhatsApp messages that talk about the simple games of our childhood. Why not go out and get the kids of your complex together and play with them? I didn't do it then, but in hindsight I wish I had. Make a concerted effort, let's utilise those mommy groups or our society's WhatsApp groups, shall we?
Not only will it make them physically fit, you'll see a rise in their enthusiasm and curiosity levels and even self-esteem. Those pre- pubertal and pubertal changes that we are fretting over, they will suddenly become more manageable. Those body image issues, the zits, the cramps and the mood swings will be less frequent and handled better. It's a life skill that your girl will thank you for, when she grows up.
Let's help our daughters reclaim playgrounds. We owe it to our daughters, to all the little girls around us.
Girls need to play. Period.