FUZIA!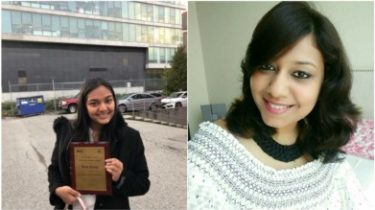 Fuzia: Empowering Women through fusion of culture and ideas
Started as a writing club, Fuzia has now become a global platform which incorporates the vision of women empowerment. Founded by an 11 year old girl, Riya Sinha in 2012 Fuzia has emerged to become an online women networking community with 30,000+ members and 4 million followers on social media. It was later joined by Shraddha Varma in 2014 (Co-founder).
The master stroke of women empowering women has win the recipe of sisterhood. It is one of the first of its kind with a platform for women only. The Fuzia world celebrates the beautifully crafted mixture of internet and creativity. Internet access has given the women across the globe a chance to grow as a person and establish their business and share their creativity. Fuzia also aims at the same and has offered various women's empowerment programs. The financial and the creative empowerment for women are on the same page. Every woman is welcomed at our platform to shine bright. Here women empower women by helping them to showcase their talent and skills and help them to discover their best version. Women creative entrepreneurs are leading the industry where technology and creativity meets to excel in commerce.
Fuzia has its vision cleared and is ever ready to help women. The online women networking community hosts various programs which allows women to present their ideas and talent to the world. From mompreneurs to theta women and whatnot we have the right deal for you all. The Fuzia is a one stop destination for every girl out there. We strive to drive creativity in any form.
Our Founders
A definite appreciation needs to be offered to our founder, Riya Sinha. Her story will give the kicks to get started and establish your identity in this world of common faces! She was not even a teen girl when she was brewing this idea of starting an online community that will be women specific. This was further expanded globally after (Co-founder) Shraddha Varma (MBA, Marketing, Welingkar Institute of Management Development and Research, Mumbai) joined hands with Riya in this mission in 2015 and 'Fuzia Writing Club' became 'Fuzia' with an aim to provide platform to all women across the globe to help amplify their voices so their thoughts reach wider audience on a global scale and to help budding talent showcase their work. In other words, to bring fusion of cultures and ideas! Riya Sinha and the Fuzia team serve as an impeccable example of women empowering women.
At the Women Economic Forum, the "Iconic Teen Entrepreneur and Innovator" award, was presented to Riya Sinha, by Dr. Harbeen Arora, founder of the All Ladies League and organizer of the Women Economic Forum conferences. Dr. Harbeen Arora, said "We are proud to see what Riya and the Fuzia team has achieved. We would like Fuzia to help us bring millennials to the Women Economic Forum platform." The odour of women empowering women has reached out to many and has changed their lives. As result of this conference, Women Economic Forum and Fuzia will partner together for the WEF global conference scheduled to take place in New Delhi, India on April 25-28th April of 2018. Fuzia will create a live streaming social media lounge at the event to help spread the message of women empowerment and gender equality to millennials and younger women leaders globally.
Riya has also been invited to TEDxSonama County where she shared her story and called out for women to believe in themselves and achieve their dreams.
Our Mission an Values
We persistently aspire to create a talent pool for women which shall instill self confidence in women and offer them the deserved appreciation. We persistently aim to drive a change in the industry by creating communities for creative people.
Goal
With a set goal of empowering women globally, Fuzia strives to redefine the definition of social media and Internet in this era aiming to reach out to every women and help them grow firm self-esteem. Our feminist approach which is entirely based on "equity" aims to encourage an impartial gender equality.
Our motivation
Women across the world face challenges to come out and establish their own mark. They are chained by their roles which the society has already defined for them. To come out as an individual person is most of the times difficult for them. Despite these hindrance their will to become successful and mark their signature inspires us a lot. We are motivated by their enthusiasm and zeal to never stop! That is why we have started a lot many women's empowerment programs to help such women grow.
Fuzia world is always available at the tip of your fingers. We have brought to you an entire treasure of opportunities to work and showcase your talent. We have created a non-judgmental and safe online women networking community. We are supportive of women who want to achieve something in their lives. If ever you have felt hesitation, and have faced restrictions, be it societal, familial, or cultural barriers, Fuzia has sorted the problem. We are available for you anytime. What is amazing about Fuzia is the way it is adamant to empower women. I am saying this because, if one can't reach anywhere, Fuzia is there! We have workshops and various programs that are skill oriented and help you grow your talent and business. Yes, our beautiful mompreneurs, now you can learn the art and skills that will help you create your own piece. When internet meets the treasure trove of tech ladies, imagine what we can achieve. Here is a small tour for you if you want to engage yourself in learning with Fuzia!
Fuzia Talent:Fuzia Talent is home to millions of creative minds. Experience the seamless solution to all your work needs. Fuzia Talent is the ultimate Creative Talent Sourcing Platform for Companies, Businesses and Startups who seek a diverse, creative and global pool of talents.
Fuzia Fest: Fuzia fest is a global confluence of diverse artists celebrating creativity, inspiration and learning. It is a unique way of getting individuals coming together who aspire to experience and learn the latest trends on storytelling, branding, design and beyond.
Fuzia Live Sessions: All the way more interesting is the Fuzia Live sessions where we bring you experts and famous figures to motivate you.
Fuzia doesn't end here. It is an ever-growing platform with millions of dreams all converging to one sole goal of women empowerment. Happy be she, who wants to be!
Disclaimer: The views and opinions expressed in this article are those of the author and do not necessarily reflect the views of The Wonder Women World. If you wish to write /contribute you can reach us at thewonderwomenworld@gmail.com or here-> CONTACT US