Embrace the challenge, Empower the change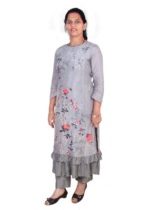 Embrace the challenge, Empower the change by Chinnmaye Praveen on www.thewonderwomenworld.com
Entrepreneurship is one of the most important aspects that helps in channelizing resources from less productive areas to efficient wealth.
Undoubtedly, we can claim that women act as catalysts for sustainable development and systematic growth. Every little girl who's been told, she's bossy should be told instead, that she has leadership skills!
We must encourage our girls and women to become entrepreneurs. And it should not be about who is going to let you do what you want, but rather, who is going to stop you?
The current generation of women entrepreneurs should help explain to those in the pipeline, that growth and comfort do not co-exist. Running a business is not a science of finance rather an art to trade, buy and sell. Gone are the days, when women were seen in predefined roles. Today across the, globe women are voicing the issues and clearly, gender equality is playing a lesser role with women's determination and decision in what they want to be.
The weight of entrepreneurial baggage should be carried carefully on your own shoulders. Here are some of my tips for the younger generation dreaming to be an entrepreneur.
1 Entrepreneurship survival is solely measured by not what one does occasionally, but what is done consistently.
Tap into your creativity don't be obsessed by what others do. Do what inherently and endlessly is interesting to you.
Women must be mindful of how circumstances impact them and more importantly of the choices they make. That doesn't mean you run away from your responsibilities but make sure you stop feeling guilty about your decisions.
Articulate your vision and do your homework before you start your entrepreneurial journey.
The meaning of networking is often mistaken by the influence of social media. Please understand it is more about making a professional connect and personal impact.
Women are taught to be nice, polite and agreeable. High time to dispose these attributes, when it comes to the cost of business ethics, self integrity and possessed pride.
Here's wishing all women entrepreneurs and aspirants the very best! Achieve it by your own rules. Women can do wonders!
And remember, Embrace the challenge, Empower the change.
Disclaimer: The views and opinions expressed in this article are those of the author and do not necessarily reflect the views of The Wonder Women World. If you wish to write /contribute you can reach us at thewonderwomenworld@gmail.com or here-> CONTACT US