SABRINA SUHAIL, MAKEUP ARTIST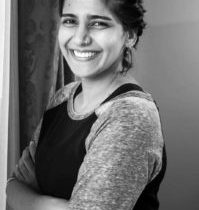 "I am a happy person, I meet happy people every day through my work and I want to meet many more happy people" – that pretty much sums up Sabrina Suhail, founder of Makeup by Sabrina. With nature, architecture, fabrics, colours and energies to inspire her, Sabrina decided to start out on her own when she realized she wanted to make her dreams come true "instead of being paid to see someone else's dream become a reality". Armed with a degree in Art and several …years of experience, Sabrina took a bold and exciting step to venture out and build her client base.
The most important thing she learned on the way, was figuring out people and their needs. What helped her as she made her entry into the competitive world of makeup was to surround herself with supportive people and positive thoughts and learn to deal with the negative ones "who try to drain all the energy out of you!". She tackles negativity by staying focused on her goal and relaxing at the end of very hectic days by "lighting a few fragrant candles and a taking a salt bath".
Sabrina thrives on challenges and looks at it as a stepping stone to becoming a stronger person and a better artist. Today, with over 20,000 followers on social media Sabrina feels happy to have clients who love her work and come back for more! Shabana Azmi, Kalki Koechlin, Radhika Pandit, Gale, Madeleine Albright are some of the celebrities she has worked with. Apart from that, Sabrina has also worked on editorials for Vogue, Marie Claire magazines and brands like Puma, Fastrack, etc. Each of her clients are equally important to her – from children, brides to be, actresses, models to professional athletes. Sabrina takes her passion for makeup one step further and trains those interested on the art of makeup at her studio. She signs off by saying "Every woman is inherently beautiful, makeup just helps enhance it. And to all the women reading this, if you choose to be happy – no one can stop you!"