Standing on The Shoulders of Giants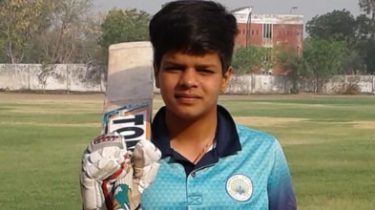 On 9 November 2019, at the age of 15 years, 285 days, Shafali Verma shattered Sachin Tendulkar's record and became the youngest cricketer to score a fifty in an innings in International cricket. Just in case one might wave it away as a fluke one off thing, she followed it up with another fifty at the same venue, the very next day.
We need new heroes and she fits the bill perfectly. She is that beacon of hope, a role model for our kids, especially the ones who dream to pursue sports. As the news portals fill us on every miniscule detail, they can dig about the wonder girl, there's something that keeps jumping out to me.
'According to her father Sanjeev Verma, Shafali had to disguise herself as a boy to get admission into a cricket academy as there was no such place for girls to train in her home town of Rohtak. She had to sport boys' haircut to enjoy the facilities of the academy.' (source: hindustantimes.com)
I don't know how the others have reacted but I find it disconcerting. It ain't like we are talking of a small-town half a century ago. This is in 2013 in Rohtak, a prominent city in Haryana. It wasn't like women hadn't made a mark in sports by then.
To put things into perspective, in 2012, Harmanpreet Kaur was the captain of the team that won the T20 Asia cup final. By 2013, Jhulan Goswami and Mithali Raj were already established names. Smriti Mandhana had become the first Indian woman to score a double hundred in a one-day game (domestic level).
The names that I mentioned are still going strong, making and breaking records. And yet we lack a consistent system, a dynamic infrastructure to help aspiring kids who want to pursue sports. Parents nowadays are quite supportive; they intend to help their girls to follow their dreams. But if these aspirations are related to sports, even the most courageous of them get cold feet. The lack of resources, expense and the uncertainty test the best of them. Eventually it's a humongous loss to the nation.
Why does every single girl (or boy for that matter though to a lesser extent) HAVE to begin the race all over again? Why can't we have the baton be passed from one to the other? The advantage of lead time, experience, the learning curve would do a world of good to the aspiring girls. Does everyone HAVE to go through the same jaddojehad? The established athletes are trying their bit in whatever capacity they want to or they can. But in spite of Nehwals, Mirzas and Phogats our girls are unable to climb on the shoulders of these giants and look ahead. Most of the time, they end up starting at the ankles and spend precious time crawling their way up.
I can go on and on and I know I have no solutions. None of us has. I wish we had, so our girls could get a chance to pursue sports without us having to worry about the whys and hows of it. Omigosh, after 520 words I have just realised I am ranting when just last week I was bragging that I don't. Talk of foot in mouth!
Disclaimer: The views and opinions expressed in this article are those of the author and do not necessarily reflect the views of The Wonder Women World. If you wish to write /contribute you can reach us at thewonderwomenworld@gmail.com or here-> CONTACT US