UDITA CHADHA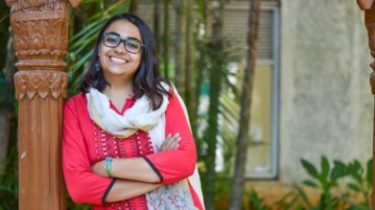 Though each one of us is a super woman, juggling between various tasks and trades. But then there are few who go that extra mile. One such inspirational story is about Udita Chadha, 30 years old, who has achieved something fabulous at a very young age which most of us don't even think of doing all our lives .
Udita Chadha is a graduate in Social Entrepreneurship from University of Southern California with over 9 years of work experience. She has an ardent belief in gender equality and women empowerment. In 2014, Udita founded a Non-Profit Organization called "Umeed" in Hyderabad, with an aim to promote women's empowerment and radically alter the mindsets that exist within society.

Udita's Journey and how she entered into Social Service –
Born as the second girl child into an insolently patriarchal society in a small city in India, Udita witnessed countless instances of physical, mental and emotional abuse against women in her family and around. She started to question such mind-sets from a very young age and grew up to become a fierce believer in women's right and empowerment.
Working in a corporate set-up for 3 years after her graduation made her realize that she cannot do that for ever as it didn't provide her the purpose she was looking for, something closer to her heart which she believed to be more meaningful. So, she quit the corporate world to join "Teach For India" initiative in order to get exposed to the social space.
She completed a two year stint of "Teach For India" fellowship, where she taught grade 2 and 3 students in government schools in Hyderabad and this helped her in interacting with the kids and their families. What shocked her the most was how boys and girls, believed that hitting a woman was acceptable! It was not that all the girls knew their life was going to be like their much-abused mother's, but the fact that they had accepted their fate at such a young age made her question the role she was playing as a teacher. Women's miserable situation in the community was affecting not just their daughters but also their son's. Most of the boys, aged 8 to 11, had already started working small jobs in the evenings to support the family financially.
During the second year of her fellowship, she co-founded Umeed (August 2014) with a vision to promote women's empowerment and radically alter the mind-sets that exist within society. By way of providing skill training, knowledge and exposure to women UMEED aspires to bring about an immediate and lasting difference, one of hope, dignity and security. UMEED is currently working with 30 women from 6 slum communities across Hyderabad.
Through Umeed, she has many stories to share such as that of Janki Ji. 7 years ago, Janki gave birth to her second child, Prashanth, who was diagnosed as a specially-abled child. Unlike her family, she took a bold step of taking care of him without any discrimination and took him to a special school every day, religiously since last years. Overtime, Janki realized the importance of being financially independent rather than depending on her family. Joining UMEED gave her a sense of happiness and comfort especially in terms of developing her emotional, social and financial independence.
WHAT IS UMEED DOING for WOMEN EMPOWERMENT?
Umeed brings a positive change in the lives of under- privileged / oppressed women by providing training and knowledge and bringing about an immediate and lasting difference; one of hope, dignity and security in each of their lives. Umeed is a holistic program, for unskilled women from low income urban communities,that will have them learn and grow through workshops and training based on 3 focus areas:
-Functional Skill: Programs for building skills that are employable, with a deep focus on bridging the gap between the skills, aptitude levels of women and the local industry requirements.
-Values and Mindset: Intensive awareness programs that develop a sense of self-worth in the women and make them more self-aware,
-Exposure: Programs that lead to knowledge and awareness about fundamental rights, duties, work rights and responsibilities of women along with understanding how to practice these learning at a personal and professional front.

Umeed is an opportunity for these women to take their very first step towards financial independence in their longer journey of becoming empowered women contributing to the Indian economy. These skills will go a long way to drive their confidence, empower them and, eventually, alter the oppressive mindsets around them to progressive ones. Umeed does not exist only to better the lives of these women; but to better the lives of their whole families and communities.

In Udita's words " IMPACT OF UMEED"
"The impact of Umeed is reflected in Janki's unmatched courage, indomitable will and many such stories of each of our women. After 5 years of running Umeed I can proudly say that our intervention in their lives has left a remarkable impact on the women as well as on us. We have failed more than we have succeeded but the small positive changes that we see in our beneficiaries and their families keeps us going"
Disclaimer: The views and opinions expressed in this article are those of the author and do not necessarily reflect the views of The Wonder Women World. If you wish to write /contribute you can reach us at thewonderwomenworld@gmail.com or here-> CONTACT US