AAI (Mother)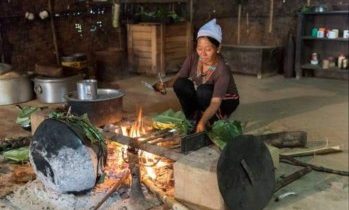 Meet Aai (mother in Assamese). Aai is camera shy and Ananya Paul Dodmani caught her off-guard, doing what she does best – being self-less!
This hard-working, 60+ year old wonder woman hails from a small village in Nagaland. Aai, is an anchor and inspiration to Ananya as she makes her way through the most remote villages of Nagaland in order to engage, help and educate the tribal communities.
Aai believes that "Not everyone can do everything, but everyone can do something" and she takes it upon herself to ensure Ananya has a warm, home-cooked meal as she spends her day trying to get to the most inaccessible terrain to pay it forward.
Ananya says, "She is like my Annapurna (Goddess of food and nourishment), who never lets me go to work without a full stomach. Feeding me months on end, making sure she gets the freshest catch of fish and the freshest of vegetables to lovingly prepare a meal for me"
An epitome of grace, kindness and with no expectations whatsoever – Aai who was born and raised in Tura, in Arunachal Pradesh, moved to Nagaland to earn a livelihood. She selflessly, does her best to contribute in the way she knows best.
While Ananya helps the under-privileged inhabitants of small, much-ignored tribal communities with food and water and basic amenities, she gets her inspiration from this unsung wonder woman who gives, from what little she has and she gives it so generously!
Disclaimer: The views and opinions expressed in this article are those of the author and do not necessarily reflect the views of The Wonder Women World. If you wish to write /contribute you can reach us at thewonderwomenworld@gmail.com or here-> CONTACT US