RASHI NARANG, HUFT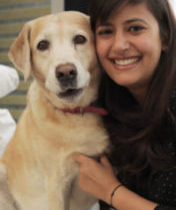 Meet Rashi Narang, founder of Heads Up for Tails. Her Labrador Sara, is the joy of her life and was all the inspiration she needed (along with her love for design) to set up Heads Up for Tails. With a tagline "Pets are Precious", Rashi describes her company as "a celebration of pets and all the joys that they bring into our lives". It all started back in 2008, when Rashi could not find quality products in the market for Sara. She wanted the best for her, but unfo…rtunately, the limited products and their poor quality was disappointing. Rashi clearly saw the gap in the market and knew that there were many other pet parents like her who wanted to indulge their pets and raise them with comfortable, sensible, functional and fun products.
With the idea set, Rashi spent hours researching the market and the industry before she launched Heads Up For Tails. She describes her journey to be "very challenging" – she knew she had entered a niche market which, so far, had been a disorganized sector. It not only meant building a market for her products but also raising awareness and educating her potential clients of the endless possibilities to make their precious pets happy.
When things were just about settling, Rashi had another big change to deal with – just a year into starting the business, her husband was posted overseas. That could easily have prompted many to shut shop and give it all up, but not Rashi – for 7 years she ran the company remotely with no money, no team and no real expertise. Didn't she want to give up? To which she replied "failing fast taught me a lot! I got through that period with grit, determination and perseverance". When things seem especially difficult, she tries to take time off – divert her mind by stepping out or doing something else and then comes back with renewed enthusiasm to get things going. Ask her about the high points in her life and she happily shares that out of 50,000 entrepreneurs she was selected to receive the Lufthansa Runway To Success award last year. It made her realize that challenges may seem insurmountable but when you put your mind to something – anything is possible!