KOSHIKA KRISHNA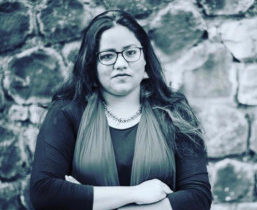 "Being silent to hate, crime, violence or injustice around us means being complicit. We have to act."
Koshika is a 23 year old lawyer and social activist from Mumbai. She began her journey into activism at the age of 18 when she began to file RTI applications on public interest issues. The learning she had through these interactions with various government officials encouraged her to do more.
She was selected at the national level Indian Student Parliament conclave (Bharatiya Chhatra Sansad) in 2015 to speak before an audience of 8,000 students.

She started her project SEHER through her fellowship at The Resolution Project that she bagged on winning the Social Venture Challenge competition at Montreal, Canada in 2017. Koshika felt the need to start this project after she observed while working with survivors of domestic and sexual abuse the deep stigma that exists around a woman's body and how this meant that they couldn't access basic amenities for a healthy living. Her project thus wants to start a discourse around the female body.
SEHER specifically aims to address menstrual hygiene and nutrition across India and since its inception has interacted with over 2,000 women and girls across rural Maharashtra. Its intervention has lead women to following healthier diet, overcoming the superstitions and myths surrounding menstruation that restricted these women from accessing basic healthcare.

SEHER now legally intervenes to address general public issues such as clean water, tribal rights, pension, custodial violence etc., It recently obtained a successful order against the Municipal Corporation in Mumbai at the Maharashtra State Human Rights Commission. This has lead to better quality and service of potable water across Mumbai, installation of water ATMs and the launching of a 24/7 complaining portal for residents of the city. For her work she was also been awarded under the FundYourOwnWorth campaign by ICICI Bank in 2018.

Koshika strongly believes that one's action and inaction both create and effect and is hence always committed to being proactive and receptive to whats happening around her.
"It has been such an incredible journey that I could never have envisioned back when I started!"
Disclaimer: The views and opinions expressed in this article are those of the author and do not necessarily reflect the views of The Wonder Women World. If you wish to write /contribute you can reach us at thewonderwomenworld@gmail.com or here-> CONTACT US