THE TRUE MEANING OF FESTIVALS!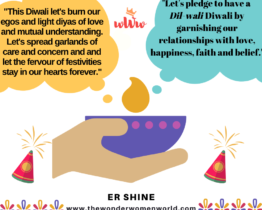 With the onset of the festival season, the never-ending struggle of having our home in a spick and span condition begins. We leave no stone unturned in decking up our abodes by spending a lot of money. But somehow, we end up getting too engrossed in these activities that we forget to realise and embrace the real essence of it.
In my opinion, it is mainly about rekindling and rejuvenating our relationships with our friends and family, neighbours and relatives which has lost its sheen owing to our hectic lifestyles. Each and every festival, be it Holi or Diwali, Lohri or Christmas is meant to bring happiness not only in our life but everyone else's life too!
Fun and frolic with our kith and kin while oozing the fragrance of love
Engaging in meaningful conversations and making memories from them
Savouring lip-smacking food and having friendly banters over them
Tackling the differences in opinions without letting them affect our pious bonds
Ignoring the flaws and embracing the uniqueness in all our bonds
Allowing all the negativity from our relations to leave forever
Loving everyone sans any expectations and hidden motives
Supporting each other in the various tides of time
This Diwali let's burn our egos and light diyas of love and mutual understanding. Let's spread garlands of care and concern and and let the fervour of festivities stay in our hearts forever.
For no ostentatious gathering, sumptuous food, eye catchy decorations can provide the feeling of togetherness than the love and warm feelings that we can possess in our hearts for everyone.
Let's pledge to have a Dil-wali Diwali by garnishing our relationships with love, happiness, faith and belief.
Disclaimer: The views and opinions expressed in this article are those of the author and do not necessarily reflect the views of The Wonder Women World. If you wish to write /contribute you can reach us at thewonderwomenworld@gmail.com or here-> CONTACT US