PROUDLY, MISS. MISFIT!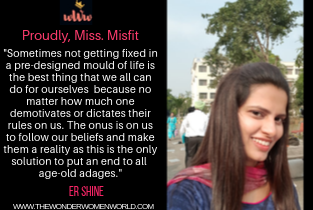 It's all in the mind. This might sound cliché, but it's true for me in every situation. From frequently being termed as a mad -hatter to a childlike personality. People, specifically few of my women relatives never missed a chance to pin-point me just because my thoughts and goals are way beyond their boundaries and imaginations.
Though I am not the one who gets offended easily yet being human it sometimes affects me a lot. After I pondered over it many a times as usual my superwoman, my mother, came to my rescue. Her words have power to influence and motivate me every time when I feel like having little or no self-confidence.
She simply told me to bask in the glory of my work rather than wasting my energy on making them understand my views as their rigid mindset hinders them from understanding anything new. As per them a woman having a mind of her own will surely have a bleak future after marriage. For them I am nothing but a sheer misfit personality in their society that is tightly woven with the threads of patriarchal rules and regimes.
There comes the fun part as such circumstances help me rise like a phoenix from the clutches of their biased thoughts just like the Newton's third law of motion 'For every action, there is an equal and opposite reaction.' Similarly, the more they try to supress me, more it pushed me to rise and shine as per my will.
'Real life is starkly opposite from what you assumed it to be.' They tried their best to forcefully put this thought in my mind, but I didn't change my belief – not even once, thereby achieving even more than what I expected from myself.
Sometimes not getting fixed in a pre-designed mould of life is the best thing that we all can do for ourselves because no matter how much one demotivates or dictates their rules on us. The onus is on us to follow our beliefs and give the best of our capabilities to make them a reality as this is the only solution to put an end to all such age-old adages.
Let your concise be your guiding light and keep the glow of it forever alive in your mind and actions.
Disclaimer: The views and opinions expressed in this article are those of the author and do not necessarily reflect the views of The Wonder Women World. If you wish to write /contribute you can reach us at thewonderwomenworld@gmail.com or here-> CONTACT US