YOU MATTER. YOUR STORY MATTERS!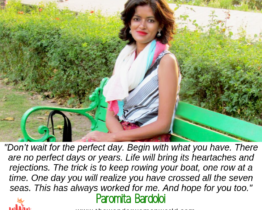 Being a writer:
My name is Paromita Bardoloi. Born and brought up in a very sleepy town in Assam, I was 18 when I went to Miranda House, to study literature as an undergraduate student. Though I come from a very small town, yet I realized that we have more gender equality than the capital of India. As a college going girl, I was petrified to see men flashing their genitals on us in the broad daylight. That was when gender and power reflected in the very society I lived in. My course also helped me in questioning. Miranda House opened me to a myriad of opportunities. That was when gender justice became a passion and I started writing about it. 17 years later, I still do in different online platforms. Now I am a full time writer. That was also when I was the back stage co-coordinator of the dramatic society of Miranda House. We performed across Delhi colleges and I realized that the gender gap and social justice is what stares on our face each day.
Aatish:
Post College, with our respective jobs which we were doing then, I and 3 of my college friends co-founded a street group called Aatish in 2011. Over all these years, we have performed across Delhi, Chennai, Uttarakhand and Rajasthan. Our theme mostly remains, gender equality, menstruation, education and so on. One of our most successful ventures had been in the remote villages of Uttarakhand where we performed on pre-natal care and menstruation.
Slam Poetry and Storytelling :
And then slam poetry and personal story telling also took over. As I started growing older I realized that we have lost personal touches to things and people. We are all running a race to be perfect. We are on a race where no one is winning. That's when poetry and personal story telling entered. I have performed in Delhi, Assam and Ludhiana to amazing responses. The whole idea of talking about the personal space is that, we are humans, we fail. And that's okay. It's been two years I am doing it.
The Empathy Circle, India:
To take storytelling further, I and my friend, Riya began an initiative called, "The Empathy Circle, India." Since July 2018, we have hosted 13 circles, which is one circle every month. In these circles we listen to life lessons. In times that we live in, we have information but we are losing our innate wisdom. These circles goes back to the old African Tribes, where people sit across and listen to each other, without judging and everyone is treated equally. These were tribes where humans thrived, there was less mental stress and violence. Those were safe societies. So the idea is going back to who we were supposed to be: human and share our life journeys. This is one place where strangers meet and support each other. It has always been a safe platform.
Letter From A Stranger, India
I was going through a very rough patch in life, since October 2018. It felt dark, very dark. That was when my friends' letters gave me immense strength. The thing with letters is that you can go back to it again and again. Once I cruised through my own darkness, I also realized that there will be many who might need letters; they might not have my support system. That is when I began this platform, "Letter From A Stranger, India." In this platform anyone can request a letter and someone from our side responds. All our writers are women. And receivers are open to all genders. The responses are overwhelming, from domestic abuse to mental health, we are requested to write about a plethora of topics. It's so strange that till date we have not been able to create a society where we can talk safely about ourselves. We are just in the midst of our 4th circle. Till date we responded to almost 100 letters. This initiative is founded by me.
Other engagements:
I have also been engaged with many NGOs, Aarohi, Manjil and Aaman Biradari, Make A wish, are a few to names. One of my favorite experiences was teaching a remote village of Uttarakhand for a couple of months. I also did the same in Assam. These experiences added so much of empathy, patiences and resilience in me, that I suggest everyone to do it once.
I started this work at the age of 12 writing for my local newspapers, and now I am in my 30s the work continues, every single day. I hope that my story inspires someone else to begin their own journeys.
Advice:
I don't really think that I am in a place to advice anyone. I can only share my lived experiences. Please know, each one of us are running different journey with different privileges and lacks. It's extremely important to acknowledge that in our own ways we are doing our best. Secondly please make yourself a priority. The love and care that you offer to others, first offer it to yourself. Nothing is more powerful than a woman who loves herself and has immense self worth. Also, you don't have to be constantly apologetic about your failures. We all fail. None of us are infallible. Be accountable for it, but don't carry the cross for too long. Success is wonderful. Praise and fame are heady. Stay grounded. Success looks beautiful on a humble shoulder and clings to it, the longest. Grow your "No," muscles. Say No, more frequently. Dream a little more. Forgive yourself more. You are trying your best.
Lastly, don't wait for the perfect day. Begin with what you have. There are no perfect days or years. Life will bring its heartaches and rejections. The trick is to keep rowing your boat, one row at a time. One day you will realize you have crossed all the seven seas. This has always worked for me. And hope for you too.
You matter, your story matters. Love!
Paromita Bardoloi
Disclaimer: The views and opinions expressed in this article are those of the author and do not necessarily reflect the views of The Wonder Women World. If you wish to write /contribute you can reach us at thewonderwomenworld@gmail.com or here-> CONTACT US