BEAUTY BEYOND COMPLEXION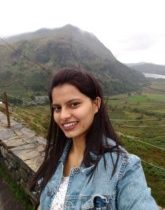 Traveling is not reaching our destination, for me it's a learning experience.

I am not talking about the geographical aspects of the various areas, their cuisine and culture. But, the number of people that we meet on our way especially if we are travelling by rail or road. On one such journey a male person asked my father if he can take one of our berths, my father agreed as me and my younger brother were 8 and 6 years old, respectively. And we could easily adjust on one berth. After thanking my father, he started conversing with my parents. Out of the blue he asked, if my parents had a love marriage to which my father asked the reason for his question. He blatantly replied that your daughter doesn't have any similarity to her mother.
Even at that age, I understood what he meant by his statement as this wasn't the first time someone has put this question. It was solely because my mother has a dusky complexion.
As I grew up, the query came in new forms. Like, Why your maternal grandparents home is so close to your residence? Why your mother's middle name is Kaur, but your father's doesn't have Singh? Well I have answers, but the real reason behind these volley of questions is that our so called educated society still can't digest the fact that a man can happily be married to a dusky skin woman.
Even today, such stereotypical thinking exists though the wave of change has started spreading. I revere my mother as my God for she is the wind beneath my wings, the driving force in my life. And I love when people call me her shadow. In a nutshell, Beauty is more than a person's complexion, it lies in their thoughts and intelligence as well.
Disclaimer: The views and opinions expressed in this article are those of the author and do not necessarily reflect the views of The Wonder Women World. If you wish to write /contribute you can reach us at thewonderwomenworld@gmail.com or here-> CONTACT US