BIRTHDAYS!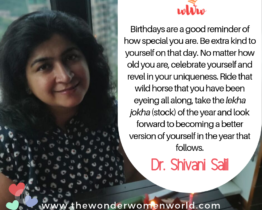 Birthdays Are a Celebration of 'You'
Birthdays are special. I'm always excited around them and having celebrated my 42nd this week, it's still on my mind. There are no high and mighty plans, no parties or gifts that interest me. Not any longer atleast. It's just the spirit of the day that gets me into that mode. In my family, birthdays were considered even more special than festivals. And that has stayed with me all these years.
What I also wonder is why is there all this brouhaha about getting older? I think its overrated. A lot of women would agree with me here that age is something we should be celebrating. We lived long enough to witness it, thank God. If for no other reason, I get the benefit of doubt of being wiser, something that my 20-year-old avatar couldn't dream of. There's less pressure on me to look good. What's not to like in all of this? So high time we do away we those jokes about women trying to hide their age and going to ridiculous extremes for that.
Anyway, coming back to where I was, when I was 18, I thought I'll finally outgrow the excitement but I didn't. Nothing changed at 21 or 25 for that matter. At 30, I stopped expecting it from myself. For me, birthdays are the time when I look back at the year gone by and pat my back to have made it through another year. It's a time to look forward to the year that's waiting to unravel itself. So, in my mind it's a full on Jalsa… if you know what I mean.
As children, I remember my mum telling us (my sister and I) to ask for something that we really wanted to splurge on. It could be just about anything, as wild as we wanted it to be (within reasonable limits of course). With age, we may have outgrown that tradition but the urge for doing or wanting something really wild has stayed unchanged.
I remember the year I was turning 40, I promised myself two things- one was to do something that I had always wanted to but never could and another was to drop something that I should have dropped long ago but hadn't.
Glad to report, that in the two years that followed, I have managed both, with modest success. I started writing, something I had always desired to. And I stopped bothering for people who weren't kind to me, the ones who had been extremely injurious to my self-esteem but were still in my life because I had allowed them to be. Not any longer, they do not have permission to invade in my mental space.
This year too I have made a similar promise to myself of which I have already fulfilled one. For the other I have to wait for the next birthday to see how it goes.
As I leave, all I want to say here is that birthdays are a good reminder of how special you are. Be extra kind to yourself on that day. No matter how old you are, celebrate yourself and revel in your uniqueness. Ride that wild horse that you have been eyeing all along, take the lekha jokha (stock) of the year and look forward to become a better version of yourself in the year that follows.
www.shivaniwrites.in
Disclaimer: The views and opinions expressed in this article are those of the author and do not necessarily reflect the views of The Wonder Women World. If you wish to write /contribute you can reach us at thewonderwomenworld@gmail.com or here-> CONTACT US