SHARANYA SWARNA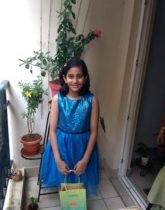 I would like to take this opportunity to appreciate Alekhya ma'am because she clears all my doubts and makes sure I understand all the concepts. She does this not just for me but for everyone in the class.
Alekhya ma'am was my science teacher when I was in the 3rd grade. She is my favorite teacher and has made a huge difference in my life. She patiently explains the same topic using different methods to make us thorough with it. She rubs out all the answers from the board and asks me some questions based on that topic. If I can answer them correctly, she assumes that I understood. If I still have a doubt, she clears it.
She doesn't scold us if we have the same doubt again and again; instead, she answers it every time. For example, when I used to ask her about condensation every day, she never even once got irritated or hesitated to explain. Once during Science class, my friend Swapasthya was talking to Prateeka and but ma'am didn't scold them.
She also makes us perform fun as well as interesting activities in our notebook. She is serious (sometimes), funny, happy, angry and kind, all at the same time. She also makes us watch videos and do role plays to demonstrate a particular topic. She helps me to learn a lot and I really, really appreciate all her hard work and time she spends for me. She always encourages us to be innovative. I really thank God for blessing me with such a wonderful and kind teacher. I also thank my parents for enrolling me in this school.
SHARANYA SWARNA
9 years old, Grade IV
Disclaimer: The views and opinions expressed in this article are those of the author and do not necessarily reflect the views of The Wonder Women World. If you wish to write /contribute you can reach us at thewonderwomenworld@gmail.com or here-> CONTACT US