CASSANDRA NAZARETH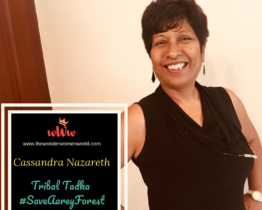 I am a 56 year old mompreneur, garment exporter, crisis management and law consultant, motivational speaker and entrepreneurial skills trainer,
based in Mumbai, with a huge energy and appetite for life.
My zest for learning made me study law at 53! A passion for recycling, environmental concerns, and empowering disadvantaged communities, particularly women, fuels my thoughts and actions.
Besides working with women in my locality, I also work with Tribal communities in the Forest of Aarey and SG National Park.
The Tribal Lunch project and Tribal Tadka brand of products are self sustaining projects to empower the tribal Warli women communities of Aarey Forest in Mumbai. These people live on urban traditional margins, ignored and neglected; even basic necessities such as water and electricity have been denied to them. Through this project, which includes giving them entrepreneurial and managerial training they have gained financial independence, confidence and a voice in their community.
Recently they were employed to cook for 10 days at the Renaissance Marriott Hotel, Powai. One request of the popular Masterchef team, two of the Warli women were included. The women were also engaged in provided steamed modaks for Ganesha Chathurti and are looking forward to Diwali 2019 orders!
I am a 2018 Change.org fellow of the #SheCreatesChange
learning lab 3.0, selected from over 2000 applicants pan India. I feel proud that I spearhead a campaign to obtain electricity for 2 villages in Aarey, the campaign was a victory in and on 30 June 2019, a village in Aarey got electricity for the first time after Indian Independence!
My Tribal Lunch project was chosen (from 110 pan India ) to be amongst the 12 that were presented to the Bill & Melinda Gates foundation in August 2018. And I am a 2017 recipient of the Sandvik Asia Maharashtra award for gender diversity.
Tours of Aarey, Warli cooking classes, a recipe book, Warli art afternoons and a full fledged Warli catering social enterprise are some of the projects I am working on and am keen to see launched.
Apart from this, I am actively leading the refurbishing of a tribal hospital and setting up a water treatment facility for a village. Project Roots, a project to assist the women in obtaining caste certificates for their families is another project underway. I am at the forefront of the #SaveAareyForest movement, a citizen"s movement that had been ongoing for over 5 years now.
I am immensely grateful to the women, from all walks of life, I have encountered on my journey. I draw inspiration from them and continue to be grateful for the association of sisterhood!
Disclaimer: The views and opinions expressed in this article are those of the author and do not necessarily reflect the views of The Wonder Women World. If you wish to write /contribute you can reach us at thewonderwomenworld@gmail.com or here-> CONTACT US