MY STORY – KHYATI GUPTA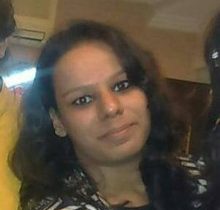 WHEN I WON OVER MR. PALSY
I am Mr. Palsy. Mr. Cerebral Palsy; living in this world for a while now. People call know me by several names – Birth Palsy, Mr. Froggy Legs, Floppy baby, etc. I'm famous for dominating and controlling peoples' lives in various ways such as the way they move around, the amount of strength that they can possess, the way they speak, learn and sometimes even how they eat. I have a record of effectively conquering the lives of people with a frequency of 2.1 per 1000 people.
I started spreading in the world when I decided to target the mother of Siptah, who was an Egyptian Pharaoh; and, you know what? I won for myself her life when she was around 20 years of age. People around the world came to know about me around the 1800s through physicians. But, it was utterly futile, as, the deeper they tried to uncover my secret, the more they got stuck in it. I was becoming overconfident because of the remarkable success rate I had before I targeted the victim whose experience with me is quoted below –
"Mr. Palsy has been after me since the time I was born; continuously trying to impose restrictions upon my physical capabilities and in turn, my confidence, at the cost of my childhood and adolescent years. He not only influenced how I led my life in the initial stages but, also how the people around me treated me. Not many people knew who he was and what he did, but they trusted and valued the ill effects that he had on me, more than the kind of person that I was and treated me harshly and inhumanly many times.
I tried several things that could help me keep him away from myself, but every time it was Mr. Palsy, who won. Eighteen years of my life had passed, and, in this time, all I had with me was willpower, inner strength, a hope that someday I will succeed and several efforts that just added to my experience of life along with several bad memories.
But, as they say- to destroy a demon, some angels incarnate. This holds true in my case. In the last few years of my war against Mr. Palsy, I have come across two angelic figures who taught me that willpower and determination, if channelized in the right direction, can lead to wonders that the world cannot even think of. One such phenomenon that changed my life was a victory over Mr. Palsy, (not to forget) under the guidance of the two angels of my life. I can't thank them enough for their priceless and valuable support.
And, this is how I turned my life into an experience as a whole-
AT WAR WITH LIFE SINCE CHILDHOOD
On OCTOBER 13 1994,
a sweet little girl was born;
though two months the date before,
tears of fortune down her cheeks, then did not roll.

That first cry of life,
has a big role.
Down the archives, her parents
made the doctors scroll.
Till then they knew- Destiny
with their life has trolled.
Everything in their life,
like a bundle of rags was rolled.
"CEREBRAL PALSY it is"-
by the doctors they were told.
Patience helped their hearts behold.
A surgery for this,
at the age of five-
made her strong and bold.
In lieu of blowing the balloon,
to her the painful process was shown –
but, the reality to her was still unknown.
With a steady pace,
the time has flown;
that sadness is now
an era bygone.
This is about me-
the fact must now be known.
Destiny at it's best tried to bow me,
my spirits and morals down.
Angels to help did incarnate,
to fight the already decided fate-
encouraging me to not lose hope,
with miracles they tied
my life's rope.
Reversing the deeds of
those selfish enough-
my life with confidence has now been stuffed.
Yes, you heard it right- I lost against her. I have always enjoyed destroying and dominating peoples' lives and I even now do, but fighting this person was fun because, in her face I did not have a competitor, but a believer, a hardworking person who had a strong will power and most importantly the selfless support of people who could turn stones to improve the lives of others. That day, in the Lord's name, I accepted failure with an open heart.
Khyati Gupta, an alumnus of Queen Mary's School, Delhi, is a literature graduate (2016) from Ramjas College, University of Delhi. She has a German-language certification in B1 level from Max Mueller Bhavan, Delhi. She has a keen interest in writing and is also an aspiring poetess who has been published twice by Delhi poetry slam on their online weekly magazine after she emerged as a winner in the competitions organized by the portal. Her interest and curiosity about music led her to start a degree course in Indian Classical music (vocal) in 2017 from Prayag Sangeet Samiti, Prayagraj with she now almost midway with. What you read above is her story.
Disclaimer: The views and opinions expressed in this article are those of the author and do not necessarily reflect the views of The Wonder Women World. If you wish to write /contribute you can reach us at thewonderwomenworld@gmail.com or here-> CONTACT US