MEERA BARATH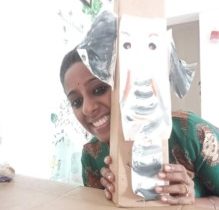 Meera is a wandering Dinosaur, like George in Peppa Pig, she too loves the Dinosaur. She is a sparrow in the morning, an eagle in the afternoon and an owl in the later part, listening to the Dinosaur within her.
Meera is an M.Sc in Psychology, Master Practitioner NLP, with 14 years experience in the HR, Recruitment and Training. Currently freelancing with a leading Publishing house as a Trainer- training the Teachers, through story telling.
That apart, she wanders in her blog page and Video blog page on her Facebook time line, when her little Princess is in the dream land on; Also it's the Dinosaur in her, that made her publish –
Mayaaktha – Coffee with Soul
Co-authored
– Out of the Woods
– Bowl of Peace
– Petrichor, Collection of Monsoon musings
– Quilled by Patriotism.
This apart, you will find her playing in the park and getting beaten up by her little one.
If you wish to join The Wonder Women Writers' Network you can reach us at thewonderwomenworld@gmail.com or reach out here CONTACT US