I FOUND MY PURPOSE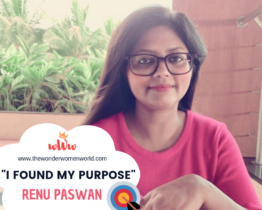 I'm Renu Paswan, a girl from Bihar who left her home 20 years back to find meaning in her life. I was born and raised in a family of special children! Time has always been difficult. In order to support my family, I took the responsibility to do something to make my family proud.

Around two years back, when I lost my brother – I found myself faced with difficult times! I lost my purpose, did not find satisfaction doing my job, faced rejections. I was in a condition I cannot express in words. Though I was strong and ambitious – the death of my brother broke me completely. 

I started to pen down my all emotions, feelings promised myself that there will be no more tears. I will stand strong, even if I stand alone. If the world wants to reject me, I was OK with that.
I was focused and started to help several people who are in same condition like me. I wrote my debut book "Live to Inspire". It was authoring this book that made me feel like a hero. I went on to win several awards.

Fighting all the odds in my life help me discover my true purpose! My motto is to live for others. I started to take sessions on inspiring people, sharing stories to make our youth more progressive! I devoted time to work for the development of women while working with the UN Sustainable Development agenda to reduce poverty, hunger and gender inequality. And most importantly, I will soon be adopting a baby girl as I felt I need not get married to become a mother.

There is so much one can do for society. We all need to adopt certain projects for the development of our society and work together to make this world a better place. Let's combine forces and do just that!
RENU PASWAN
Disclaimer: The views and opinions expressed in this article are those of the author and do not necessarily reflect the views of The Wonder Women World. If you wish to write /contribute you can reach us at thewonderwomenworld@gmail.com or here-> CONTACT US