A note of appreciation, to my mother…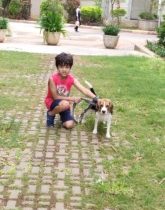 Everyone in this world loves to receive appreciation for their work. We should always admire and praise the good in any person. There are many people in my life who have influenced me immensely but today I want to write this note of appreciation for the special person who has made me confident and self-motivated. That person is none other than the one who gave birth to me – My Mother.

I was very fond of Table Tennis but was petrified of playing the sport with my friends. That's because I wasn't good at it and hence, my friends would laugh at me. I only watched my friends playing and I felt gloomy and lonely. My mother questioned me about this every day as she could sense something was wrong. I initially avoided answering her but finally one day I confided to my mother and shared my apprehensions about playing TT with friends. My mom listened to me patiently and comforted me. She said, "Beta, don't be so sad about this. They will laugh at you once, twice or maybe thrice, but one day they will appreciate you. Don't let others affect your determination. Try and try until you succeed. Always listen to your inner voice." These words of my mom made me confident and I started practising and playing with my friends. Today, the people who laughed at me appreciate me. I am grateful to my mother for giving me a valuable lesson for life.
Name – Vivann Bajoria
Age – 8 years
Disclaimer: The views and opinions expressed in this article are those of the author and do not necessarily reflect the views of The Wonder Women World. If you wish to write /contribute you can reach us at thewonderwomenworld@gmail.com or here-> CONTACT US