THANK YOU MUMBAI!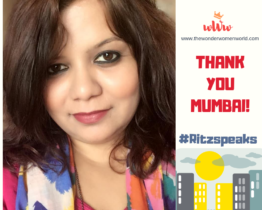 The theme for August is appreciation. The word appreciation brought in a lot of emotions and ideas. I would like to appreciate not any person, but a city, Mumbai.
Yes. Mumbai, the city of dreams. It is not a flawless city at all! But for me Mumbai is an emotion. It is a city to which I owe a lot.
In 2002, 17 years ago, I came to this city as a new bride. I started my new life here. Having stayed in small towns and in the care of my parents, this was my first tryst with a big city. This city gave me my first encounter with local train, the sea of people, the way to becoming more independent.
Mumbai is a city where people in general are not nosy and nobody cares about what you wear, how late you came home, whom you are with and so on! Having seen all this in the small towns, this was like a breath of fresh air for me. I got my recognition as a blogger in this city, got to attend events. Never in my dreams had I imagined I would get to meet so many celebrities. Mumbai has given me many more opportunities to grow.
With all its flaws, I still love this city.  Never realized when Mumbai became aamchi Mumbai for me.  I will be always thankful to the city for having given me wings, an identity and experiences.
Disclaimer: The views and opinions expressed in this article are those of the author and do not necessarily reflect the views of The Wonder Women World. If you wish to write /contribute you can reach us at thewonderwomenworld@gmail.com or here-> CONTACT US